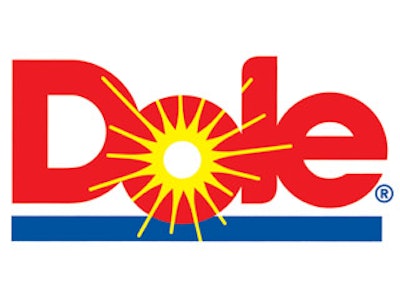 WESTLAKE VILLAGE, Calif. (AP) — Dole Food Company Inc.'s shares sank Tuesday after the fruit and vegetable company said it would suspend its share repurchase plans and use its cash instead to update its shipping fleet to enhance its growth prospects.
THE SPARK: The company said that it is indefinitely suspending its $200 million share repurchase program. Dole said its board approved the $165 million purchase of three new refrigerated container ships. The ships will be used for its U.S. West Coast operations and are expected to be delivered between 2015 and 2016.
The company said that another factor in the suspension of the repurchase plans was the drag on earnings due to recent losses in its strawberry business.
THE BIG PICTURE: This represents a major shift in its spending plans as Dole announced the repurchase program only a few weeks ago.
The company said it is trying to take advantage of a good window of opportunity in the shipping industry to make the purchases and prices are competitive to update the fleet. Dole said its 27-year-old ships will be replaced by more fuel-efficient ships that are built to Dole's specifications.
Dole said updating its West Coast shipping capabilities is very important strategically to its growth prospects..
The company, based in Westlake Village, Calif., has gone through a lot of major changes recently. It sold its packaged foods and Asia fresh business for $1.69 billion in a deal that closed in April. That allowed Dole to become solely an international commodity produce company, which provides a more narrow focus going forward but makes its earnings more volatile due to the nature of the fruit and vegetable business.
For example, Dole said Tuesday that unusual weather conditions have hurt its strawberry business and it expects losses of $23 million for the year from that segment. The company also said that while it is trying to sell excess land in Hawaii, it doesn't expect to get any cash from that soon due to the large amount of farmland involved.
SHARE ACTION: Dole shares sank 64 cents, or 5.8 percent, to $10.42 by midday Tuesday on the news. The company's stock has been falling since this fall and is at the lower end of its 52-week trading range of $8.39 to $15.19.