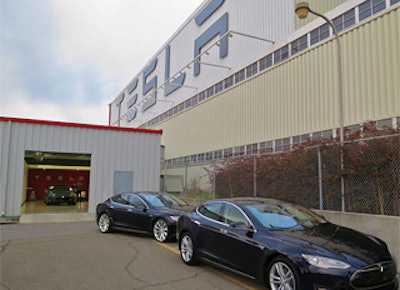 RALEIGH, N.C. (AP) — Tesla Motors is fighting a bill in North Carolina that would effectively ban the company from selling its electric cars in the state, pitting it against auto dealers who say the car maker has an unfair advantage selling directly to consumers online.
It's the latest such battle for California-based Tesla, which like other car manufacturers must navigate a patchwork of state laws dictating how its vehicles can be sold. Nearly all states — 48 — require manufacturers to sell their vehicles through dealerships to ensure the companies don't undercut their own network of franchised dealers, according to the National Automobile Dealers Association.
Tesla says it is cutting out the middleman by allowing people to view different options in a showroom, but then ordering the car direct from the company online rather than buying from a salesman. That approach also allows it to bypass state laws regarding franchised dealers, which have been in place for decades. However, lobbying groups say franchise dealers invest more locally and provide customer service that Tesla cannot.
The bill in North Carolina was mostly routine, simply updating the law governing the relationship between automakers and dealers. But it also changes the law to subject electronic sales to the same scrutiny. It has been unanimously approved by the Senate; the company is set to sit down with the state lobbying group for dealers, the North Carolina Automobile Dealers Association, to discuss a compromise that both sides say is unlikely to be reached. .
Tesla doesn't yet have a showroom in North Carolina, where it has sold about 80 cars to date. The company recently announced the first quarterly profit in its 10-year history, around the same time Consumer Reports gave its Model S electric sedan a near-perfect rating.
Tesla currently operates 29 stores and galleries across 14 states and Washington, D.C. Customers can order a car online at a sales location or at home but not at galleries, which exist purely to showcase cars in states where auto dealers have launched suits or state law restricts the company from discussing sales in person.
Colorado was the first state to take action against the manufacturer's stores, passing legislation in 2010 that halts their expansion. Since then, Minnesota lawmakers unsuccessfully pushed for a similar measure. In New York and Massachusetts, dealers have unsuccessfully sued to shut down the dealer's stores. In Virginia, a judge recently rejected Tesla's request for an exception to laws that prevent manufacturers from operating dealerships in most cases.
But the automaker can sell in every state because transactions legally take place in California. The North Carolina law, however, prevents customers in the state from making electronic purchases directly through manufacturers, said Diarmuid O'Connell, Tesla's vice president of business development.
"This would be the first place to my knowledge that Internet-based communications with our company would be circumscribed," he said.
The argument from dealers in North Carolina has mirrored those from the national association and in other states: franchise dealers invest more locally, showing commitment to communities and customer service that Tesla can't match.
"It's a consumer protection," said Bob Glaser, president of the NCADA, "and why we say that is a dealer who has invested a significant amount of capital in a community is more committed to taking care of that area's customers."
Tesla has stepped up its advocacy in North Carolina with a Web campaign and a recent showing of its Model S just outside the legislature. The demonstration drew lawmakers, their pages and passersby, who almost uniformly marveled at the touchscreen dashboard and sleek design of the car.
Sen. Ellie Kinnaird, D-Orange, lauded the ingenuity of the car after watching it automatically start up when she sat down, but she said she doesn't regret joining the 47 other senators who voted unanimously for the bill.
"Dealerships are one of those basic industries that are the roots of a small town," she said. "The model convinced me that, while this is visionary, the reality is it has to evolve to a local presence."
Some have suggested a compromise that would allow Tesla a certain quota of direct sales without going through franchised dealers. But that isn't fair to other manufacturers, said Sen. Tom Apodaca, R- Henderson and the bill's sponsor.
"You can't cut out a category for a brand new company when you've got Kia, Hyundai — they're in here full blast — (but) Maserati, Ferrari (and) Rolls-Royce?" he said. "They have dealer presence in North Carolina, and I know they probably don't sell 80 cars."
Apodaca received a state-maximum $8,000 in contributions from the 7,000-member NCADA in 2012. He noted steady contributions from the industry date back years, and he's a top Republican with a pro-business reputation.
Tesla says that its time-intensive customer service model won't translate well to franchise dealers and that most consumers would laugh at the notion that they're better served by the existing system. O'Connell said the dealers' true interest is maintaining total control over retail.
The bill was initially pitched as a way to protect consumers from online transactions that don't offer protections, "but we saw through that veil and the reality has emerged," he said.
Francine Lafontaine, a University of Michigan economist who specializes in franchising, said the laws in place contributed to the collapse a decade ago of web-based manufacturer Build-to-Order, whose founder, Scott Painter, dreamed of selling cheap and customizable cars directly to consumers.
"For someone who is kind of in business and looking at business models, it's not obvious the car industry is so different, but it's the only industry retail-wise that's protected to this extent," she said.
Those laws are likely to stay in place, considering franchise dealers account for about 20 percent of the sales-tax base at the state level and spend millions a year lobbying at the federal level, Lafontaine said. Tesla has shown resiliency, but the company shouldn't expect the roadblocks at the state level to let up easily, she added.
"I'm kind of pleased that Tesla has gotten as far as it's gotten," Lafontaine said. "In some cases I guess it's because it's electric. But they will need that national solution."
The company could try to lobby for a federal law or a ruling from federal courts that would apply across the U.S., O'Connell said. That could include making a case based on the Constitution's Commerce Clause, which says only Congress can regulate interstate commerce. Courts have also held that it forbids discriminating against out-of-state companies.
Steve Schwinn, a professor of constitutional law at the John Marshall Law School, said such a case could prove difficult. He pointed to a 2001 decision in U.S. Circuit Court in a case involving Ford and the state of Texas. The court rejected Ford's claim that the state's law preventing the company from selling used cars through its own website violated the Commerce Clause.
In this case, Tesla would have to prove North Carolina's law discriminates specifically against the automaker, Schwinn said.
"If it is, and it's enough at Tesla, and Tesla is an out-of-state actor, and there's evidence that the legislature discriminated specifically against them, then there's a chance that the landscape might change," he said. "That strikes me as a lot of ifs."