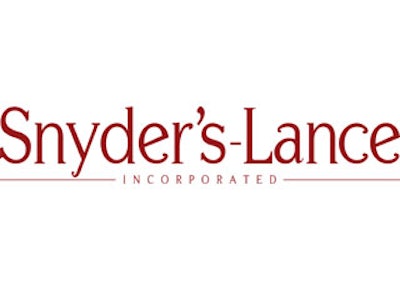 CHARLOTTE, N.C. (AP) — Snack food maker Snyder's-Lance said Tuesday that its net income fell 33 percent in the second quarter from results a year ago that included a gain related to the sale of some businesses.
The results missed Wall Street expectations. Snyder's-Lance Inc. makes snack foods such as Cape Cod chips and Snyder's of Hanover pretzels.
The company declared a quarterly dividend of 16 cents per share on Tuesday. The dividend will be paid on Aug. 30 to shareholders of record on Aug. 21.
For the period ended June 29, the Charlotte, N.C., company earned $13 million, or 19 cents per share. That compares with $19.3 million, or 28 cents per share, a year earlier.
The year-ago period included a $4.8 million gain on the sale of some businesses related to the 2010 combination of Snyder's Inc. and Lance Inc. Expenses were also higher in the current quarter.
Taking out impairment charges and other items, earnings were 24 cents per share. Analysts expected earnings of 28 cents per share, according to a FactSet survey.
Revenue increased 10 percent to $439.1 million from $399.4 million. Wall Street predicted higher revenue of $446.5 million.
For the year, Snyder's-Lance still anticipates 2013 adjusted earnings will rise 22 percent to 32 percent and revenue will climb 10 percent to 12 percent. This implies adjusted earnings of $1.16 to $1.26 per share and revenue of about $1.78 billion to $1.82 billion.
Analysts foresee full-year earnings of $1.23 per share on revenue of $1.78 billion.
Snyder's-Lance shares finished at $31.96 on Monday. Its shares hit a 52-week high of $32.49 last Thursday. They fell as low as $22.24 last September.