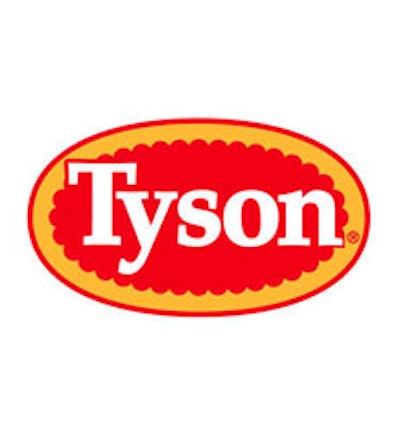 SPRINGDALE, Ark. (AP) — Tyson Foods' third-quarter net income more than tripled as chicken and beef sales climbed on increased prices.
The performance easily topped Wall Street's expectations. Its stock rose more than 4 percent in midday trading on Monday after briefly touching an all-time high.
The nation's biggest meat producer earned $249 million, or 68 cents per share, for the three months ended June 29. That's up sharply from $76 million, or 21 cents per share, a year ago.
Earnings from continuing operations were 69 cents per share.
Analysts, on average, expected earnings of 60 cents per share, according to a FactSet poll.
Revenue rose 11 percent to $8.73 billion from $8.26 billion, beating Wall Street's estimate of $8.66 billion.
Chicken sales increased 11 percent to $3.16 billion, with the average price up 6 percent. Sales of beef rose 7 percent to $3.72 billion, with the average price climbing 2.9 percent. Sales of prepared foods also increased, while pork sales fell slightly.
Tyson said that there was more demand for chicken and beef products during the quarter. The company said that demand for pork also improved, which helped to raise the average sales price and livestock cost, but that there was a slight rise in live hog supplies.
The Springdale, Ark., company maintained its forecast for 2013 revenue of approximately $34.5 billion. Analysts predict revenue of $34.19 billion.
Shares of Tyson Foods Inc. rose $1.17, or 4.1 percent, to $29.68 in midday trading after rising as high as $29.85 in earlier trading. That was its highest level ever, according to FactSet.