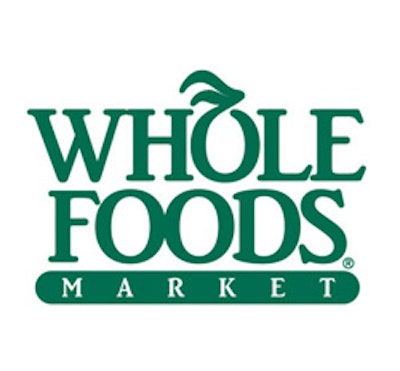 NEW YORK (AP) — Whole Foods Market Inc. says its profit rose by 21 percent in the latest quarter, as the organic grocery store operator worked on making its prices more competitive for a broader audience of shoppers.
The company, based in Austin, Texas, says sales at stores open at least year — a key metric because it strips the impact from newly opened or closed locations — rose 7.5 percent. That's slower than the 8.2 percent increase in the year-ago quarter. In the current quarter, the company also noted the figure was up just 5.8 percent so far.
Shares fell 3 percent in after-market trading to $53.70.
Whole Foods is among the many players changing the way people shop for groceries. In addition to traditional supermarket chains such as Kroger and Safeway, people are increasingly getting their food at big-box retailers such as Target, drugstores and even dollar stores that have expanded their grocery sections.
Whole Foods, which has more than 350 locations, is popular because its health glow fits with people's growing desire to eat better. But stores such as Kroger and others are increasingly tapping into that trend as well and rolling out more products or sections labeled as natural or organic.
To reach a broader audience and gain market share, Whole Foods co-CEO John Mackey noted in a conference call with analysts that the company is working on ensuring that its prices stay competitive.
That has led to a significant expansion in its store-brand offerings, many of which fall under the 365 label. But the push also includes stepping up promotional activities and "old retailer tricks" such as one-day and three-day sales, co-CEO Walter Robb said in an interview.
Whole Foods is also tailoring its strategy for different regions. In its recently opened Detroit store, for example, Robb said there's a higher percentage of non-organic fruits and vegetables, which helps keep prices lower. The company has also made "price investments," meaning it sacrifices some profit margin to keep prices lower and attract shoppers.
"I think that the perception is that Whole Foods is far more affordable than it was a few years ago," Robb said.
The company noted that the strategy it's deploying in Detroit can be applied to other markets, which will help it open in different types of neighborhoods. If and when that push to make prices more affordable impacts margin is unclear.
"I sometimes feel like the boy who cried wolf," Mackey said, noting that he had been warning for a few quarters that margins might be impacted. Thus far, he pointed out it hasn't had a significant impact because of measures the company has taken to improve efficiencies in other areas.
For the period ended July 7, Whole Foods said it earned $142 million, or 38 cents per share. That's a penny more than analysts expected, according to FactSet. A year ago, it earned $117 million, or 31 cents per share.
Revenue rose 12 percent to $3.06 billion, but was short of the $3.09 billion Wall Street expected.
Looking ahead, Whole Foods raised its earnings per share guidance for the year slightly to $1.45 to $1.46, up from $1.43 to $1.45.
Over the long-term, the company says it sees potential for up to 1,000 stores in the United States as demand for natural and organic products continues to rise.