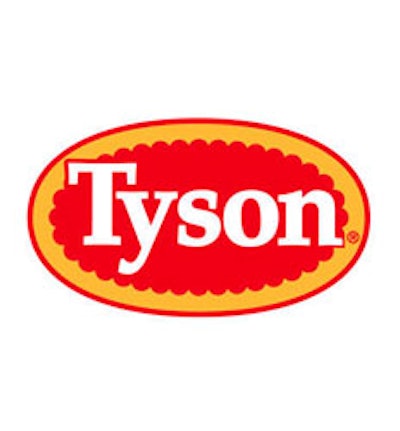 SPRINGDALE, Ark. (AP) — Tyson Foods said Monday that its fiscal fourth-quarter net income climbed 41 percent, driven by higher beef and chicken sales. The results prompted a 50 percent spike in the company's dividend.
The nation's biggest meat producer also provided a fiscal 2014 revenue forecast above analysts' estimates, and its stock rose in premarket trading.
Tyson Foods Inc. earned $261 million, or 70 cents per share, for the period ended Sept. 28. Last year, the Springdale, Ark. company earned $185 million, or 51 cents per share.
This met the expectations of analysts polled by FactSet.
Revenue increased 7 percent to $8.89 billion from $8.32 billion. Wall Street predicted revenue of $8.85 billion.
Chicken sales rose to $3.16 billion from $2.96 billion, while beef sales climbed to $3.75 billion from $3.43 billion. Average sales prices increased for chicken, beef, pork and prepared foods.
For the fiscal year, Tyson earned $778 million, or $2.12 per share, up 33 percent from $583 million, or $1.58 per share, last year.
Adjusted earnings from continuing operations were $2.26 per share compared with adjusted earnings of $1.97 per share in the 2012 fiscal year.
Annual revenue climbed 4 percent to $34.37 billion from $33.06 billion.
Looking ahead, Tyson anticipates fiscal 2014 revenue of about $36 billion. Analysts expect $35.64 billion in revenue.
Tyson also said that its board decided on Thursday to raise its quarterly dividend by 50 percent to 7.5 cents, from 5 cents. The dividend will be paid on Dec. 13 to shareholders of record on Nov. 29.
In addition, Tyson said that Chief Operating Officer Jim Lochner will retire in September 2014. He's served as the company's COO since 2009. Once he retires Lochner will serve as an adviser through 2017's end.
Shares of Tyson Foods gained $1.13, or 3.9 percent, to $39.90 before the market open. The stock closed Friday at $28.77, up 48 percent since the start of the year.