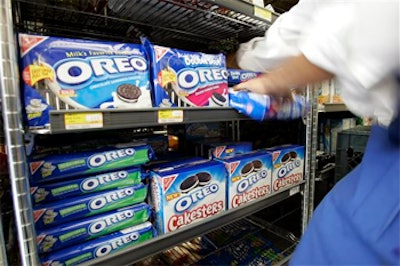 DEERFIELD, Ill. (AP) — Mondelez is increasing its stock repurchase program by $1.7 billion. The maker of Oreo cookies can now buy back up to $7.7 billion shares of its common stock through 2016.
Mondelez International Inc., which split from Kraft Foods last year, said Tuesday that it also entered an accelerated share repurchase agreement to buy $1.7 billion of its common stock. The accelerated buyback is expected to be completed no later than 2014's second quarter.
Chairman and CEO Irene Rosenfeld said in a statement that the buyback is part of its previously announced plans to use net proceeds from the resolution of the Starbucks legal dispute for stock repurchases.
Last month Starbucks Corp. announced that it must pay at least $2.23 billion to settle a dispute with Kraft over coffee distribution. Mondelez is getting the award.
Deerfield, Ill.-based Mondelez's other brands include Cadbury, Ritz and Trident. Its stock gained 60 cents, or 1.8 percent, to $34.04 in morning trading after rising as high as $34.39 earlier in the session. FactSet said that is an all-time high.