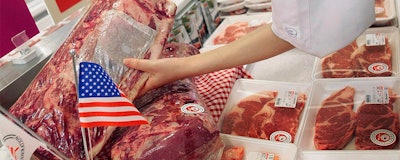 TOKYO (AP) — In unwelcome news for American farmers, Japan said Friday that it was imposing emergency tariffs of 50 percent on imports of frozen beef, mainly from the U.S.
Finance Minister Taro Aso announced the move Friday, saying he was prepared to explain the decision to the U.S. side.
"The tariff will take effect automatically as the volume of the imported US frozen beef exceeded the quota set by law," Aso said, "So this is what has to be done."
Japan's beef farmers are famed for their luscious marbled Kobe beef and other delicacies, and the government has long used tariffs and other measures to protect its farmers from foreign competition. Still, prices for imported beef tend to be half or less those for beef from domestically-raised cattle.
The U.S. and Australia account for 90 percent of all imports of frozen beef, which is mostly used by beef bowl, hamburger and other fast food outlets.
The usual tariff rate for frozen beef imports is 38.5 percent. Under World Trade Organization rules, Japan can introduce safeguard tariffs when imports rise more than 17 percent year-on-year in any given quarter.
U.S. farmers had been hoping for wider access to Japan's lucrative market through a Pacific Rim trade initiative, the Trans-Pacific Partnership. But U.S. President Donald Trump withdrew from that accord after taking office.
Trade terms Japan negotiated with the 10 other remaining members of the TPP remain in force. So Australia, the biggest rival to U.S. beef exporters with a more favorable tariff rate of 27.5 percent for frozen beef, will not face the same jump in tariff rates thanks to a free trade agreement reached with Tokyo as part of the TPP talks.
Relatively affordable "Aussie beef" is an increasingly popular feature of most supermarket meat sections, with Australia supplying more than half, about 55 percent, of all frozen beef imported to Japan.
According to figures from the U.S. Department of Agriculture, the U.S. supplies around 35 percent, though U.S. beef exports to Japan have risen recently as prices fell after the livestock sector recovered from years of drought.
The Finance Ministry reported 89,253 metric tons of frozen beef were imported so far this year.