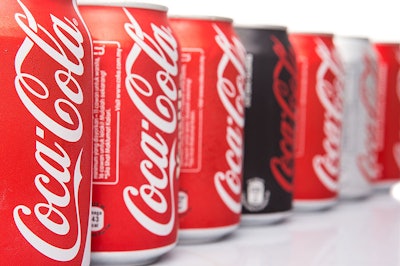 ATLANTA (AP) — Coca-Cola's profit tumbled in the second quarter, hampered in part by charges related to the refranchising of its North American business. But adjusted results still topped most expectations as higher pricing offset flat sales volume from a year ago.
The world's biggest beverage maker is trying to diversify under new CEO James Quincey to better reflect changing tastes and the proliferation of options in the beverage aisle. Quincey has said that Coke has outgrown its core soda drinks, and needs to become a "total beverage company." On Wednesday, Quincey noted the company is in a period of "substantial transformation and change that is never easy."
Coca-Cola's efforts to adapt have included marketing drinks that are seen as healthier, and pledging to reduce its "sugar footprint." It's also cutting costs and refranchising bottling and distribution operations in North America, a move that focuses the company more squarely on marketing and brand building.
In North America, the company said sales volume was even during the quarter, reflecting "slightly positive" growth in carbonated drinks such as Sprite and growth in juice and dairy. Volume for water, enhanced water and sports drinks declined, the company said.
For the three months ended June 30, Coke earned $1.37 billion, or 32 cents per share. That compares with $3.45 billion, or 79 cents per share, a year earlier.
Earnings, adjusted for one-time costs, were 59 cents per share. That's better than the 57 cents per share analysts surveyed by Zacks Investment Research called for.
Revenue for the Atlanta company declined to $9.7 billion from $11.54 billion, hurt by the ongoing refranchising of bottling territories and foreign currency fluctuations. Analysts expected $9.71 billion in revenue, according to Zacks.
Coca-Cola anticipates full-year earnings per share will be flat to down 2 percent from the prior year's $1.91 per share. Its previous outlook was for the results to be down 1 percent to 3 percent.
Coca-Cola Co.'s stock gained 14 cents to $45.38 before the market opened Wednesday.