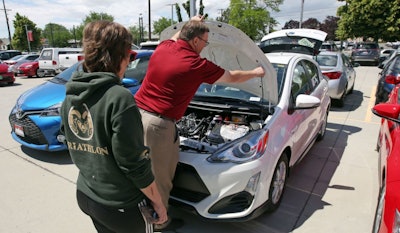 U.S. consumers gained confidence this month, with more Americans pleased by current conditions and more hopeful about the future.
The Conference Board, a New York-based business research group, says its consumer confidence index in July rose to 121.1, up from a revised reading of 117.3 in June. Consumers' views on current conditions hit the highest level since July 2001, while expectations for the future rebounded after a slight dip in June.
Economists say the strong readings on consumer confidence are being bolstered by a healthy job market, with unemployment at a low 4.4 percent in June.
Michael Pearce, a U.S. economist for Capital Economics, said the strong confidence readings were a good sign that recent weakness in retail sales will prove to be temporary and "consumption growth will remain strong over the rest of the year."
Consumer spending accounts for 70 percent of U.S. economic growth.
The overall confidence reading of 121.1 was the highest since the confidence index hit 124.9 in March. Both of those readings were the highest since confidence stood at 128.6 in December 2000.
The Federal Reserve was holding a two-day meeting that will end Wednesday. Most economists believe the Fed will leave interest rates unchanged after hiking rates in March and June.