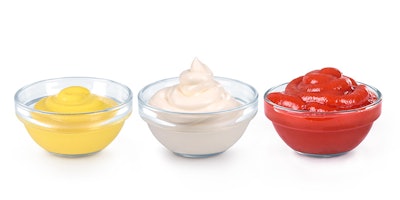 ROCKVILLE, Md., July 19, 2017 (PRNewswire) — From ketchup to salsa to sriracha, the U.S. market for condiments and sauces is full of the familiar, the foreign and the fantastic. Consumer demand for these products and the flavors they impart helped the market for condiments and sauces reach $24 billion in 2016. The findings were published in Condiments and Sauces: U.S. Retail Market Trends & Opportunities, a brand new report by market research firm Packaged Facts.
Market growth in 2016 marked an annual rate of more than 2 percent over the preceding five years. Comparable — if not slightly lower — sales growth is anticipated year-over-year through 2021 despite challenges to the industry due to the widespread shift toward healthier living.
"The trend toward healthy eating has created challenges for marketers of sauces and condiments, as the perception that sauces and condiments are an unnecessary and unhealthy addition to many foods has made some consumers cut back on consumption," says David Sprinkle, research director, Packaged Facts. "As a result, sauces and condiments are increasingly marketed as organic and healthy, with new options such as low-sodium or low-sugar varieties supporting restrictive diets."
Marketing products as certified organic or carrying "free-from" labels has become part of several trends that will help keep sauces and condiments popular with a range of influential consumers, including Baby Boomers, Millennials, Hispanics, and African Americans.
Here are Packaged Facts' 6 trends to that shaped and will continue to shape the condiments and sauces market:
Exotic Flavor Profiles Heating Up the Market: Ongoing multicultural changes in the U.S. led to tremendous growth in the market for hot sauce from 2011 through 2016. As adventurous Millennials sought out new flavors, spicy foods and sauces became incredibly popular. Perhaps the most astounding trend during that time was the sudden rise of sriracha sauce.
Diverse Flavors Put a Spin on Staple Sauces and Condiments: Following the tastes of Millennials looking to try new foods and flavors, mature condiments with established recipes began to offer more twists on the classics after small startups paved the way. For instance, many mayonnaise brands now offer wasabi, chipotle, pesto, garlic, horseradish, and ginger flavors, among others. Ketchup varieties include chipotle, ghost pepper, sriracha, and sun-dried tomato, while mustard might feature garlic, bleu cheese, oregano, or, of all things, "everything bagel" flavors.
The Gluten-Free Effect: To follow the gluten-free trend, sauces and condiments that traditionally contained gluten increasingly became available in gluten-free varieties, such as Kikkoman Gluten-Free Soy Sauce. Additionally, naturally gluten-free foods began to be explicitly labeled as such. Some products implemented higher standards to prevent cross-contamination with gluten in order to adopt such labeling.
Organic, Non-GMO, and Artisanal Products Gaining Steam: Consumer fears about possible health risks of consuming artificial additives and genetically modified organisms (GMOs) have driven growth for sauces and condiments labeled as "natural," "organic," and "non-GMO." Food companies looking to satisfy this skeptical demographic have submitted products to certification groups such as the Non-GMO Project in record numbers.
Environmental Sustainability and Corporate Responsibility: As consumers show more interest in environmental sustainability and ethical business practices, companies are increasingly selling a story with their products. Websites or product labels may display information about a company's history and how products are made to interest the consumer. This marketing tactic is often successful with Millennials, who tend to see corporate transparency as a big factor when making purchasing decisions.
Diet Sauces and Condiments for Healthy Eating: Lastly, this trend is simply too big to ignore or downplay. As mentioned, consumers increasingly focused on health might cut out certain sauces and condiments from their diets based on the perception that these add-ons are loaded with unnecessary sugar, salt, and preservatives. Having light food options is especially important for older consumers like Baby Boomers, who are likely to have age-related health concerns.
About The Report
Condiments and Sauces: U.S. Retail Market Trends & Opportunities examines the current and forecasted U.S. retail market for sauces and condiments, including nut butters and spreads. The discussion includes key trends driving consumer purchases within this food category, including demand for natural and organic products.
View more information about Condiments and Sauces: U.S. Retail Market Trends & Opportunities, including purchase options, the abstract, table of contents, and related reports at Packaged Facts' website: https://www.packagedfacts.com/Condiments-Sauces-Retail-Trends-Opportunities-10952710/.
More Packaged Facts reports on foods and beverages are available for purchase at: https://www.packagedfacts.com/food-beverage-market-c84/.
About Packaged Facts
Packaged Facts, a division of MarketResearch.com, publishes market intelligence on a wide range of consumer market topics, including consumer demographics and shopper insights, consumer financial products and services, consumer goods and retailing, consumer packaged goods, and pet products and services. Packaged Facts also offers a full range of custom research services.