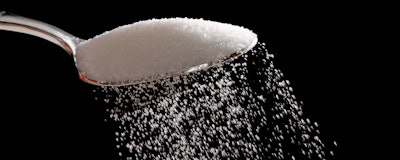 NEW YORK (AP) — Are Americans getting a raw deal on sugar prices?
President Donald Trump called a recent agreement on sugar with Mexico a "very good one" for both countries. But companies that make candy, cakes and other foods containing the sweetener say it will lead to Americans paying more than they already do.
The split perspectives underscore how U.S. policies have long put sugar producers at odds with the rest of the food industry. Food makers say federal policies already inflate U.S. sugar prices, and the new agreement will make things worse. The sugar industry, meanwhile, says food companies are trying to drive down prices to sweeten their own profits, not to make treats more affordable.
To understand if the sugar deal might affect grocery bills, here's a look at how sugar prices work.
TRADE RULES
U.S. policies on sugar support higher prices in a couple ways.
Limits on sugar imports help shield domestic producers from competition. The government also effectively guarantees U.S. producers a minimum price for their sugar if the market price falls below that level.
The latest deal with Mexico traces back to the North American Free Trade Agreement, which opened the U.S. market to Mexican sugar imports in 2008. But a few years after that, U.S. sugar producers said Mexico produced too much and got rid of it by dumping it in the U.S. for lower prices than in Mexico, which was a violation of trade laws.
That triggered an agreement in 2014 that limited the amount of sugar Mexico could send to the United States, among other things. Trump's deal this month tightens the terms of that temporary agreement.
THE PRICES
It's difficult to pinpoint how much more Americans pay for sugar as a result of U.S. policies, given the complexity of factors that influence prices at home and globally. Much of the sugar people eat also comes from foods where the cost of sugar is just one factor in the price.
That's why a government agency in 2000 cited a range of $600 million to $1.9 billion in estimating the potential benefit to American consumers if federal sugar policies weren't around. The agency noted that it wasn't clear how much of any potential savings food makers might immediately pass on to consumers.
Still, a food industry lobbying group in 2011 estimated that federal sugar policies cost Americans as much as an extra $4 billion a year . The Sweetener Users Association, which represents food makers that use sugar, says its calculation is based on the difference in the average price for U.S. refined sugar and the average world price, multiplied by the amount of sugar Americans consume. The estimate would vary depending on the gap between U.S. and world prices.
Rick Pasco, the group's president, says people might not notice the extra cost because it it's spread out across the population, amounting to about $9 to $11 a year per person.
THE DEAL
The deal with Mexico tightens the 2014 agreement. It says more of the sugar imported from Mexico will be raw, meaning more work for U.S. refiners. It also raises the minimum price for sugar from Mexico. The U.S. government will review whether it should be extended in late 2019.
According to the Sweetener Users Association, the new terms could mean an additional $1 billion in costs to consumers. Other critics say federal policies only enrich domestic sugar producers. And while other commodities enjoy federal protections, sugar is among the most protected, says Gary Hufbauer at the Peterson Institute for International Economics, which favors free trade and gets funding from companies including PepsiCo.
Either way, shoppers may not detect any price hikes directly because of the Mexico deal, in part because manufacturers and retailers consider so many other factors before adjusting the price of that chocolate bar.