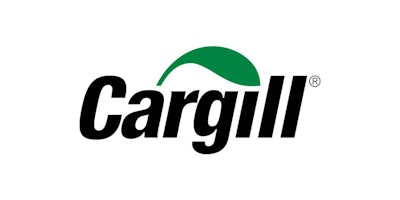 MINNEAPOLIS, July 13, 2017 (PRNewswire) — Cargill on Thursday reported strong financial results for the fourth quarter and fiscal year ended May 31, 2017. In the second year of an ongoing transformation, Cargill raised earnings across all four business segments in both periods. It also advanced the capabilities, expertise and partnerships needed to be the leader in nourishing the world in the years ahead.
Full-year results:
Adjusted operating earnings reached $3.04 billion, up 85 percent from $1.64 billion in the prior fiscal year. Net earnings on a U.S. GAAP basis were $2.84 billion, a 19 percent increase year-on-year.
Revenues grew 2 percent to $109.7 billion on higher sales of grain, oilseeds and metals.
Cash flow from operations climbed 38 percent to $4.69 billion.
Fourth-quarter results:
Adjusted operating earnings were $460 million in the fourth quarter, in sharp contrast to last year's $19 million adjusted operating loss. Net earnings were $347 million, compared with $15 million in the year-ago period.
Revenues rose 4 percent to $28.3 billion.
"The past two years have seen significant work to improve performance and position the company for growth," said David MacLennan, Cargill's chairman and chief executive officer. "The structural improvements we've made, as well as favorable conditions in some markets, have yielded strong results. Although the environment continuously changes, we feel good about our underlying progress. By building a more integrated, focused and agile Cargill, we are creating the momentum for growth and success for our customers and partners."
MacLennan noted that Cargill and its customers now operate in environments of much greater complexity. Mixed macroeconomic trends have left customers – from consumer branded and foodservice companies to farmers – looking for a partner with the expertise, reliability and forward-looking perspective that Cargill provides. "We want to be their most trusted partner in agriculture, food and nutrition. We're in a stronger position today to deliver the solutions our customers seek."
To drive financial performance in fiscal 2017 and beyond, Cargill:
Set a strategic direction to be the leader in nourishing the world in a safe, responsible and sustainable way.
Continued building differentiated capabilities for future growth, including digitalization and analytics, and sustainable supply chains.
Reshaped its business portfolio through $1 billion of investment in strategic acquisitions, joint ventures, and new or expanded facilities, as well as $700 million in divestitures of non-strategic assets.
Repurchased about $2.1 billion in long-term debt, which will lower future interest expense.
Segment results
Animal Nutrition & Protein was the largest contributor to adjusted operating earnings in the fourth quarter and full year. Segment results were up significantly from last year, lifted by exceptional performance in global protein, especially in the first half. In North America, the protein business continued to experience strong consumer demand in the fourth quarter for beef at retail and for egg products from foodservice customers. Export demand for beef also was brisk. Poultry posted higher earnings for the year, with increased exports of cooked chicken from Southeast Asia, higher fresh chicken sales in Europe and improved performance in China. Animal nutrition, which makes up the rest of the segment, saw earnings rise in the fourth quarter, as favorable trading and cost reductions offset the impact of environmental and market conditions that tempered feed demand in several countries. Full-year results in animal nutrition came in just above the prior year.
In animal nutrition, Cargill opened an innovation center in Chile dedicated to fish health and added feed mills in China, India and Indonesia. In protein, Cargill sold four cattle feed yards in the U.S. and an egg processing facility in Canada. It purchased Five Star Custom Foods in Fort Worth, Texas, which specializes in cooked protein products. It also converted a major facility in Columbus, Nebraska, from fresh to cooked meats. The company formed poultry joint ventures with leading food companies in Indonesia and the Philippines, and began expanding its own poultry processing capacity in Thailand. At the start of fiscal 2018, Cargill acquired Pollos El Bucanero, one of Colombia's leading producers of chicken and processed meat products.
Food Ingredients & Applications was the second-largest contributor to earnings, with results up in both periods. The segment posted improved results across global ingredient portfolios in cocoa, and corn- and wheat-based products. Throughout the year, the segment focused on strengthening its operating efficiencies and commercial capabilities, including a modernized deployment of sales, marketing and technical resources to better serve customers' changing needs.
During the year, the segment opened two innovation centers – in Shanghai focused on collaborative product development with food companies, and in Minneapolis for food and nutrition research and development. It completed two acquisitions in plant-based bio-industrials in Brazil and the U.S.
Origination & Processing turned around last year's fourth-quarter loss with a profit in the current period. Slow farmer selling in South America extended U.S. export opportunities, which kept profitability in North America ahead of last year's fourth quarter. For the full fiscal year, segment earnings exceeded the prior period as record U.S. crops were met with brisk demand from global growth in livestock production. Global trading performance added to segment results, even though opportunities were limited by low volatility in many commodity markets.
Over the course of the year, Cargill sold its U.S. crop inputs business, two oilseed processing facilities in France and the Netherlands, and its 40 percent share in a flour milling joint venture in Australia. It expanded crush volume at its oilseed plant in Três Lagoas, Brazil. In the fourth quarter, Cargill and local partners opened a large oilseeds processing plant and port facility in northern China in Hebei Province.
Earnings rebounded in Industrial & Financial Services, boosted in both the fourth quarter and full year by increased returns from asset management investments, excellent trading and customer-focused merchandising in North American natural gas and power markets, and solid performance in ocean shipping bolstered by improved market conditions. Full-year results also reflected a reduction in the counterparty risk adjustment made in last year's fourth quarter.
Cargill completed the sale of its petroleum trading business to Australia's Macquarie Group in early July 2017. At the start of fiscal 2018, Cargill agreed in a separate transaction to sell its natural gas and power business, also to Macquarie. Pending regulatory review, the sale is expected to close in the first quarter of fiscal 2018.
Accelerating impact
Cargill achieved significant milestones with a number of global partners this year. Cargill and CARE announced a $7 million, three-year extension of their partnership, having positively impacted 300,000 lives in seven countries since 2013. The two organizations will seek to reach a total of 1 million people by 2020 through the same proven approaches that have enabled their success to date: increasing farmers' productivity, market access and livelihoods, as well as improving food and nutrition security, community governance and education resources. Cargill and CARE have worked together for more than 50 years, with Cargill investing $18 million in their joint efforts since 2008.
Ongoing work with The Nature Conservancy and World Resources Institute helped drive progress in ending deforestation, protecting water resources and curbing greenhouse gas emissions to mitigate climate change. And a new $3 million Cargill grant will assist Feeding America, the largest hunger relief organization in the U.S., with nutrition education, increased access to fruits and vegetables, diabetes prevention and food safety measures.
To ensure students can learn and prepare for the future, Cargill joined with World Food Program USA to launch a $1 million school meals program that will benefit 100,000 students in Honduras, Kenya and Indonesia over the next two years. In the company's headquarters region of the Twin Cities, education and nutrition programs supported by the Cargill Foundation reached more than 300,000 schoolkids during calendar 2016. Worldwide, Cargill invested $13 million in fiscal 2017 to improve access to science, technology, engineering and math (STEM) education and agricultural leadership programs.
"We know that building a resilient food and agricultural system will require many hands and varied approaches," MacLennan said. "Working alongside our customers, leading NGOs and academic institutions, and farmers everywhere, Cargill and our employees are accelerating our impact to help the world thrive."
Explanation of non-GAAP financial measure
Cargill reports financial results in accordance with U.S. generally accepted accounting principles (GAAP). The company additionally reports adjusted operating earnings, a non-GAAP financial measure that management believes provides additional insight into the underlying financial performance of ongoing operations. In calculating adjusted operating earnings, Cargill includes earnings from non-controlling interests and mark-to-market gains or losses on intercompany contracts between the Origination & Processing and the Food Ingredients & Applications segments. Cargill excludes the following seven items: timing differences related to inventory, derivatives and hedging; last-in-first-out (LIFO) inventory adjustments; amortization of intangible assets; gains and losses on changes in investment structure; asset impairment and restructuring charges; gains and losses on sales of businesses and other long-term assets; and earnings attributable to non-controlling interests of Cargill's asset management subsidiary. For more information, visit www.cargill.com/company/financial/index.jsp.
Cargill provides food, agriculture, financial and industrial products and services to the world. Together with farmers, customers, governments and communities, we help people thrive by applying our insights and 150 years of experience. We have 150,000 employees in 70 countries who are committed to feeding the world in a responsible way, reducing environmental impact and improving the communities where we live and work. For more information, visit Cargill.com and our News Center.