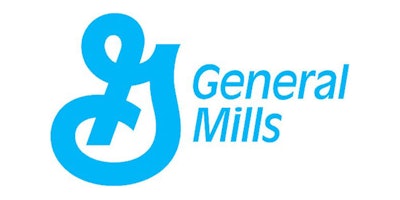 NEW YORK, July 12, 2017 (PRNewswire) — General Mills executives updated investors and analysts on its global priorities for fiscal 2018 Wednesday at the company's annual Investor Day event at the New York Stock Exchange.
General Mills CEO Jeff Harmening, who transitioned to the role June 1, said the company remains committed to its Consumer First strategy and will look to global prioritization to unlock growth opportunities including opportunities in e-commerce.
"We'll remain laser-focused on knowing our consumer and what's driving them," said Harmening. "While the biggest shift in our industry in the last five years was driven by changing consumer food values, I believe the most significant change that will impact the next five years will be in how consumers get their food, driven by the rapid acceleration of e-commerce. We see this as an exciting opportunity for General Mills."
E-commerce represents about 1.5 percent of the company's total sales in the U.S. today. The company expects this number to grow to 5 percent by fiscal year 2020. It also continues to see strong double-digit growth ahead for its global e-commerce business, led by the U.S.
Priorities for topline growth
Harmening identified four key priorities for fiscal 2018 as the company works to improve its topline growth trends:
Grow cereal globally, including the company's joint venture Cereal Partners Worldwide;
Improve its U.S. Yogurt business through innovation;
Invest in differential growth opportunities including the company's global Häagen Dazs and Old El Paso businesses, global snack bars platform, and its portfolio of Natural and Organic brands across North America; and
Manage its foundation businesses with appropriate investment.
Grow global cereal
The company has seen recent benefits from both wellness and taste improvements in cereal. Successful wellness initiatives have included gluten-free news, the removal of artificial flavors and colors, and whole grain messaging. The company will deliver new great-tasting cereals across U.S. brands including new varieties of its "Toast Crunch" line, new Blueberry Chex and Banana Nut Cheerios, and global new products including Nesquik and Cheerios all-family granolas, as well as expansion of successful recent global innovation like Lion Wild.
U.S. Yogurt innovation
General Mills is reshaping its U.S. yogurt portfolio through product news and renovation on its core Yoplait and Go-Gurt products, expanding its presence in organic with Annie's and Liberté, and developing a new "simply better" yogurt segment. The company recently introduced Oui by Yoplait, inspired by a traditional French recipe that delivers remarkable taste with simple ingredients like whole milk and real fruit. The product is carefully cultured in individual glass jars over an 8-hour period. The result is a thick and creamy yogurt with a remarkable, subtly sweet taste that is different from any national-brand yogurts in the market today.
Investing for differential growth
Häagen-Dazs, snack bars, Old El Paso and the company's Natural & Organic business in North America are four key areas Harmening pointed to as investment priorities. With roughly $4 billion dollars in combined net sales, they're a meaningful portion of the company's overall business.
Häagen-Dazs has been renovating key shops, expanding its line of stick bars to new markets, and growing distribution in existing regions and new geographies. The brand recently entered five new markets including, Australia. This summer Häagen Dazs is launching a global brand refresh that encompasses everything from the packaging to the advertising to the shop experiences.
The global snack bar category is another global growth area with brands including Nature Valley, Fiber One and LÄRABAR. The company will expand much of its U.S. innovation success to Europe with Nature Valley Nut Butter Biscuits and growing the Fiber One franchise.
Old El Paso continues to see success around the world as the global leader in Mexican food. Plans are focused on expanding product innovation, such as Stand 'N' Stuff Mini soft taco boats and new product innovation like Stand 'N' Stuff Mini kits in Europe and Blue Corn Stand 'N' Stuff shells in the U.S.
The fourth area where the company is investing for differential growth is its Natural & Organic business in North America, which has been growing aggressively since General Mills first acquired the Cascadian Farm and Muir Glen brands in 2000. With nine brands today, including Annie's and EPIC, LÄRABAR and Liberté, the company expects this portfolio to generate $1.5 billion dollars in net sales by 2020.
Foundation businesses
Foundation businesses, which include refrigerated dough, soup, and baking mixes amongst others, deliver consistent profit to fund topline growth initiatives. General Mills will make strategic investments on key brands including a new line of Progresso organic soups and new Pillsbury pizza dough that takes the dough 'out of the can' in a new rolled format.
The company also sees opportunity for further margin expansion, driven by continued Holistic Margin Management, continued benefits from incremental cost-savings initiatives as well as benefits from global sourcing and process transformation initiatives. The company's efforts helped drive more than 200 basis points of expansion in adjusted operating profit margin over the last two years. General Mills will moderate the pace of expansion in fiscal 2018 as it invests to restore topline growth.
About General Mills
General Mills is a leading global food company that serves the world by making food people love. Its brands include Cheerios, Annie's, Yoplait, Nature Valley, Fiber One, Häagen-Dazs, Betty Crocker, Pillsbury, Old El Paso, Wanchai Ferry, Yoki and more. Headquartered in Minneapolis, Minnesota, USA, General Mills generated fiscal 2017 consolidated net sales of US $15.6 billion, as well as another US $1.0 billion from its proportionate share of joint-venture net sales.