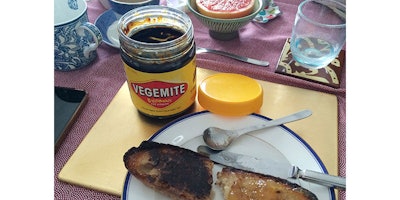 CANBERRA, Australia (AP) — Vegemite, the salty, brown spread beloved in Australia, is going home, purchased by an Australian dairy company from the maker of Oreos.
Mondelez International Inc. said Wednesday it was selling Vegemite and other Australian and New Zealand grocery products to Bega Cheese in a deal worth about $345.3 million (460 Australian dollars).
Deerfield, Illinois-based Mondelez said it plans to focus on other products like Oreo cookies and Cadbury chocolate.
The sale was welcomed by many Australians who complain that iconic Down Under brands, including Foster's beer and Speedo swimwear, have been sold to foreign companies.
"This is the best news I've heard for a long time," Australian entrepreneur Dick Smith, who developed an Australian-owned yeast extract alternative called OzEmite, told Australian Broadcasting Corp on Thursday. "To bring Vegemite back into Australian hands after over 60 years of it being in American hands, it's great because it means the profit will stay in Australia."
A byproduct of brewing beer, Vegemite was introduced in the 1920s and is an Australian household staple.
Those who haven't been brought up on the spread, long marketed as a rich source of Vitamin B and ideal for healthy children, often find it a difficult taste to acquire.
President Barack Obama once said: "It's horrible."
Australians abroad commonly bemoan how difficult Vegemite is to find outside their country.
Although it remains by far the country's most popular yeast-based spread, its market share and sales have slipped in recent years, according to Euromonitor International. Last year, Vegemite's sales in Australia were $78.5 million, down from $86.9 million in 2011.
Barry Irvin, Bega Cheese's executive chairman, attributed the recent declines to changing breakfast habits.
He described Vegemite and Bega as a natural fit: Cheese and Vegemite are a popular taste combination on sandwiches.
"The wonderful heritage and values that Vegemite represents and its importance to Australian culture makes its combination with Bega Cheese truly exciting," Irvin said in a statement.
Bega shares rose on the news on the Australian market in early trading Thursday more than 5 percent from AU$4.84 to AU$5.09.
Mondelez had licensing rights for Kraft's products overseas after it split with Kraft Foods in 2012. Mondelez says it is holding onto Philadelphia cream cheese in Australia.
The sale also includes other local Australian grocery products, peanut butter and salad dressings that use the Kraft name under licensing. Bega Cheese makes Kraft cheeses for Mondelez and was looking for opportunities to grow beyond dairy. The diversification "adds stability to Bega Cheese," Irvin said.
Michael Mitchell, a Mondelez spokesman, said about 200 employees will be offered roles "on comparable terms" with Bega Cheese. He said a manufacturing plant will transfer to Bega, but that there will be no closures.
For non-Australians, the mention of "a Vegemite sandwich" in Australian band Men at Work's 1983 hit song "Down Under" may be their only exposure to the stuff.
Not so back home, where it can be found in 90 percent of Australian households.
An Australian prime minister once claimed that more Australians know the lyrics of a Vegemite advertising jingle written in 1954 than know the Australian national anthem.