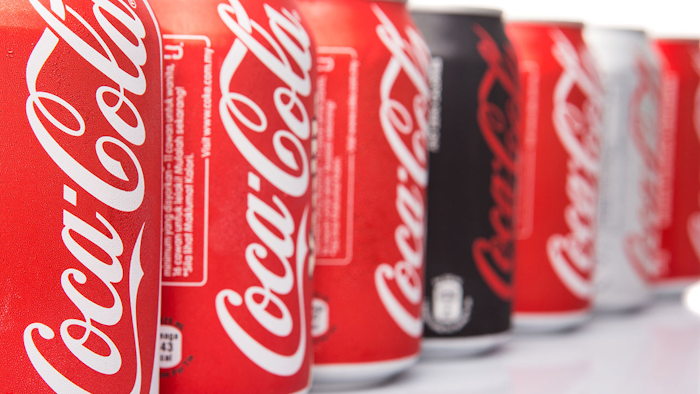 ATLANTA (AP) — Coca-Cola's global soda volume rose in the fourth quarter, even as Diet Coke continued to suffer declines.
The world's largest beverage maker said Tuesday that worldwide unit case volume for soda, which reflects average daily sales, rose 2 percent in the final three months of last year, as the growth of Sprite and Coke Zero offset a decrease in Diet Coke. Non-carbonated drinks such as bottled water rose 6 percent.
Coke executives have said Diet Coke's decline has been largely a U.S. issue. That trend continued in the quarter, with the company registering a 5 percent drop in Diet Coke sales volume for the region while regular Coke was flat. Coke Zero, a newer diet soda that uses different sweeteners and has been marketed toward men, experienced growth.
"Some of it may be cannibalization," said Chief Financial Officer Kathy Waller in a phone interview. "There are a lot more men drinking Coke Zero that used to drink Diet Coke."
While the company is working on slowing the falloff, Waller said she didn't know whether "I can tell you when it's going to stop declining."
James Quincey, Coke's president and chief operating officer, noted during a call with analysts that diet and light sodas are outperforming regular sodas overseas. As such, he said he thinks Diet Coke can undergo a turnaround in the U.S.
Other major diet sodas have also waned in popularity. In hopes of reviving sales of Diet Pepsi, for instance, PepsiCo swapped out the sweetener in the soda over the summer. PepsiCo, which reports results Thursday, has previously said it's too early to tell whether that change has helped win back customers.
Coca-Cola Co. said its organic revenue, which strips out the impact of acquisitions and divestitures and the impact of currency fluctuations, declined primarily as a result of six fewer days in the quarter compared to a year ago. That meant its total concentrate sales for the period declined 3 percent. That was partially offset by higher pricing, the company said.
Coke also said it would accelerate its refranchising of company-owned bottling territories in North America by the end of 2017, instead of by 2020.
For the final three months of the year, Coke earned $1.24 billion, or 28 cents per share. After excluding one-time items, it earned 38 cents per share. That was a penny more than Wall Street expected, according to Zacks Investment Research.
Total revenue fell 8 percent to $10 billion in the period, though better than the $9.86 billion analysts expected.
Coke shares have decreased almost 1 percent since the beginning of the year, while the Standard & Poor's 500 index has fallen slightly more than 9 percent. The stock has climbed nearly 3 percent in the last 12 months.