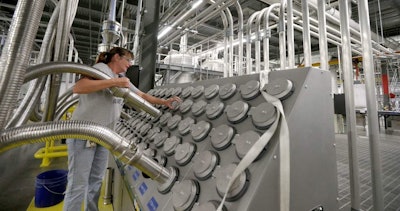 Key indicators in the nation's manufacturing sector slowed slightly last month but remained overwhelmingly positive, according to the latest poll from the Institute for Supply Management.

The Manufacturing ISM Report On Business' July survey of supply executives resulted in a Purchasing Managers Index of 56.3 percent.

Although the index declined 1.5 percentage points compared to the June survey, the total remained well ahead of the 50 percent threshold indicating manufacturing growth. The PMI reflected an expanding manufacturing sector for the 11th consecutive month.

The indexes for both new orders and production also declined compared to June levels but remained above 60 percent and showed continued growth for 11 months in a row.

Manufacturing employment grew for the 10th consecutive month after a July index of 55.2 percent. That total was down compared to June and Manufacturing Business Survey Committee chairman Timothy Fiore noted that survey respondents signaled an increase in employees leaving for other opportunities.

"Production remains at strong growth levels in most industries in spite of supplier delivery constraints and the continued need for additional labor," Fiore said in a statement.
Inventories remained stable at an index of 50 percent last month while prices climbed 7 percentage points to an index of 62 percent. Poll participants said that metals, food products, electronic components, wood products and chemicals were among the raw materials to see higher prices.

The indexes of supplier deliveries and order backlogs each exceeded 55 percent in July, an indicator of both slower deliveries and rising backlogs.

"Many Business Survey Committee Members are commenting on suppliers struggling to keep up, largely due to labor retention, recruitment and stability issues," Fiore said.

The PMI level translated to growth in the overall domestic economy for the 98th consecutive month.