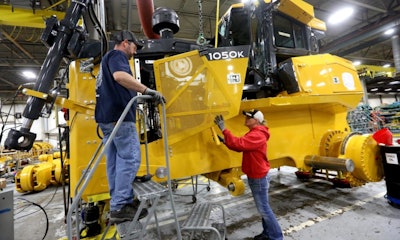 A monthly survey of business leaders suggests that business conditions worsened last month but that the economy will pick up over the next few months in nine Midwestern and Plains states, according to a report issued Tuesday.
The Mid-America Business Conditions Index dropped to 56.1 in July after reaching 62.3 in June. The May figure was 55.5.
"The overall index over the past several months indicates a healthy regional manufacturing economy, and points to solid growth for both manufacturing and nonmanufacturing for the second half of 2017," said Creighton University economist Ernie Goss, who oversees the survey.
The survey results are compiled into a collection of indexes ranging from zero to 100. Survey organizers say any score above 50 suggests growth in that factor, while a score below that suggests decline. The survey covers Arkansas, Iowa, Kansas, Minnesota, Missouri, Nebraska, North Dakota, Oklahoma and South Dakota.
Economic optimism remained strong despite a decline in July's number: to 60.2 from 67.5 in June.
"Strong profit growth, still-low interest rates, and international sales boosted the economic outlook among supply managers in the nine-state region," Goss said.
The July employment index remained above growth neutral, despite slipping to 56.5 last month from 60.7 in June.
"With the recent boost in employment growth, total regional employment growth (year over year) is now 1.4 percent, and slightly below the nation's 1.6 percent gain over the same time period," he said.
On the trade front, the regional index for new export orders index dipped to 54.3 in July from 56.6 in June, and the import index declined to 50.0 from June's 56.7.
Japan's recent decision to raise the tariff on frozen beef imports will significantly harm Kansas and Nebraska, according to Goss, because Nebraska ranked No. 1 and Kansas No. 4 in those sales.