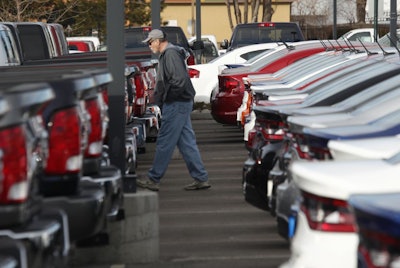 Detroit's "Big Three" automakers each reported slower sales last month amid projections that the domestic market will fall short of last year's record pace.

Ford saw its July sales slide by 7.5 percent compared to totals from July 2017, but the company blamed most of the decline on lower sales to commercial and rental customers.

General Motors and Fiat Chrysler, meanwhile, posted declines of 15.4 percent and 10 percent, respectively.
FCA said that fleet sales also played a part in the lower numbers, while General Motors — despite strong sales of some crossover models — acknowledged that the U.S. market "continues to moderate."

Those companies' primary Japanese rivals fared better in their latest reports, but both Nissan and Honda also reported declining sales last month.

Nissan sales fell by 3.2 percent as Honda's declined by 1.2 percent. Honda, however, saw a 2 percent gain in its flagship division and among its car models. Car sales overall tended to suffer in recent months as buyers instead opted for larger trucks and SUVs.

Toyota reported its "strongest month of the year so far" with a sales increase of 3.6 percent — the lone company to report a jump among the top six companies in the U.S. auto market.