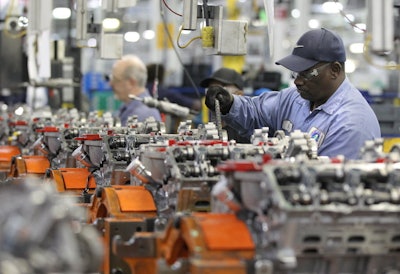 The U.S. manufacturing sector continued to show growth in April but saw slowing momentum for the second consecutive month, according to the latest monthly poll of supply executives.

The Institute for Supply Management said that its April survey reflected a Purchasing Managers' Index of 54.8 percent. Although a PMI in excess of 50 percent translates to manufacturing growth, the index was down 2.4 percentage points compared to March and 2.9 percent compared to February.

The PMI indicated manufacturing growth for the 8th month in a row and translated to growth in the overall economy for the 95th consecutive month.
The indexes for production and new orders also reflected continued growth at 58.6 percent and 57.5 percent, respectively, but although the production index climbed 1 percentage point compared to March, new orders were off by 7 percentage points.

The employment index, meanwhile, fell nearly 7 percentage points from an almost six-year high in March, but the manufacturing workforce continued to show expansion at 52 percent.

Prices also moderated slightly in April following a nearly six-year high index level in March. The prices index slid from 70.5 percent to 68.5 percent over that span.

Order backlogs climbed again in April as inventories resumed growth after declining in March. Customer inventories, meanwhile, remained too low for the seventh consecutive month.

The index of new export orders climbed narrowly to 59.5 percent last month, while imports increased by 2 percentage points to 55.5 percent.