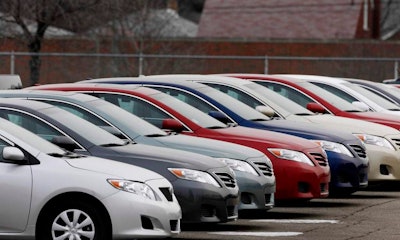 U.S. consumers cut back sharply on buying durable goods such as autos in March, leaving overall spending unchanged for a second straight month. A slowdown by consumers was a major reason overall economic growth slowed so sharply over the winter.
Consumer spending was unchanged in March after also being flat in February and posting only a modest rise of 0.2 percent in January, the Commerce Department reported Monday. For the January-March quarter, the sharp slowdown in consumer spending was a key reason growth, as measured by the gross domestic product, slowed to an annual rate of just 0.7 percent, the poorest performance in three years.
Economists believe growth will bounce back in the current April-June period, helped by continued strong job gains, rising wages and increased consumer confidence. Many analysts are looking for a second quarter surge to growth of 3 percent or better and they are forecasting growth for the entire year of around 2.3 percent, up from 1.6 percent GDP growth in 2016, the poorest showing in five years.
Analysts believe the bounce back in the current quarter will be helped by job gains, rising wages and increased consumer confidence. But the poor first-quarter performance underscored the challenge President Donald Trump faces in lifting economic growth, which has lagged over the nearly eight years of this economic expansion, the slowest in the post-war period.
Trump promised during the campaign to double economic growth to 4 percent or better through a combination of tax cuts for individuals and businesses, deregulation and tougher enforcement of America's trade deals. But economists believe that Trump's growth goal will be hard to achieve given the headwinds the economy faces, with an aging workforce and scant gains in recent productivity.
The March spending report showed that incomes grew a modest 0.2 percent after stronger increases of 0.3 percent in February and 0.4 percent in January. The combination of weak spending growth and stronger income growth pushed the saving rate to 5.9 percent of after-tax income in March, up from 5.7 percent in February.
A key inflation gauge closely watched by the Federal Reserve showed a 0.2 percent decline in March while core inflation, which excludes food and energy, fell 0.1 percent, the first decline since September 2001. For the 12 months ending in March, core inflation has risen 1.6 percent, down from a 1.8 percent increase in February. That performance represented a small setback for the Fed's goal of getting inflation back to annual increases of 2 percent.
Fed officials meet this week but economists are not looking for the central bank to raise interest rates.
Paul Ashworth, chief U.S. economist at Capital Economics, said he did not believe the March reading on inflation would deter the Federal Open Market Committee from raising rates at the meeting next month.
"We don't expect that will prevent the Fed from hiking interest rates again at the June ... meeting, at least not as long as employment growth rebounds in April and May," Ashworth said.