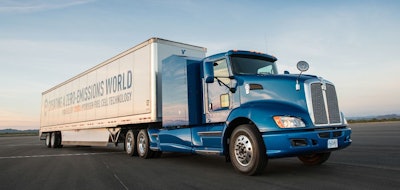 Toyota last week introduced a project aimed at developing heavy-duty trucks powered by hydrogen fuel cells.

The Japanese automaker announced "Project Portal," a concept semi-truck, at a press conference with port officials and environmental regulators in Southern California.

Toyota officials said that the truck produces no harmful emissions but retains the power and torque necessary to conduct operations at ports. The concept will be included in a study of fuel cell technology in heavy-duty applications set to begin this summer.
Japanese automakers long supported fuel cell systems, which combine hydrogen fuel with oxygen in the atmosphere to generate power and leave only water vapor as exhaust. Fuel cell vehicles, unlike electric vehicles, can also be refueled as quickly as a conventional gasoline engine.

Critics counter that generating hydrogen fuel is an energy-intensive process, and the technology remains limited in most of the U.S. by a lack of available hydrogen fueling facilities.

California, however, features numerous hydrogen stations, including 16 in the Los Angeles area alone.

"Toyota believes that hydrogen fuel cell technology has tremendous potential to become the powertrain of the future," said Bob Carter, executive vice president of Toyota Motor North America.

The pilot project will also take part in the Clean Air Action Plan at the Ports of Long Beach and Los Angeles. Although environmental officials said the plan helped sharply reduce pollution at one of the nation's busiest ports, large trucks remain a major contributor to its emissions.

"This demo will show how fuel cells can help support the heavy-duty sector's efforts to increase efficiency, transition to zero-emission technologies, and increase competitiveness," said Janea Scott of the California Energy Commission.