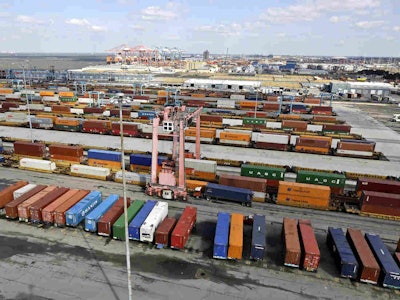 A Senate panel on Tuesday unanimously approved President Donald Trump's pick to represent the U.S. in trade negotiations, a position that will place Robert Lighthizer in the center of the administration's efforts to renegotiate the North American Free Trade Agreement and other pacts Trump has criticized as detrimental to the nation's economy.
The 26-0 vote by the Senate Finance Committee now moves Lighthizer's nomination to the full Senate.
Lighthizer served as deputy U.S. trade representative under President Ronald Reagan. He has also worked on trade issues as a lawyer representing various manufacturers and high-tech companies.
Lighthizer will take his cues from a president who has broken with most Republicans in his criticism of free trade agreements. Lighthizer, who has assailed some Republicans for being too pro-free trade, told the Senate panel earlier this year that the U.S. should have an "America-first trade policy."
Some of Lighthizer's most vocal supporters came from the Democratic members of the Finance Committee. Sen. Ron Wyden, D-Ore., said the next U.S. trade representative has to step up on trade enforcement to pry open markets for U.S.-made goods. He said he's confident that Lighthizer can meet that challenge.
The committee also voted to grant Lighthizer a waiver from a law that prohibits anyone who has represented a foreign entity in trade negotiations from being the nation's top trade representative. Democrats agreed to the waiver after earning commitments from Chairman Orrin Hatch, R-Utah, to work with them to protect coal miners' health care benefits as part of a spending bill to keep the government running.
The vote in support of Lighthizer comes just one day after the administration followed through on some of the president's tough talk on trade by announcing it would seek to impose a 20 percent tariff on softwood lumber entering the United States from Canada, a move that pleased some members of the committee.
"What's the president team did yesterday was send the message that help was on the way," Wyden said.
Hatch said the USTR is the principle intermediary between Congress and the president on trade policy, and that the sooner the Senate confirms Lighthizer, the stronger Congress' voice will be in shaping trade policy. After the hearing, Hatch and Wyden voiced support for reviewing how to improve the North American Free Trade Agreement signed by the U.S., Canada and Mexico.
"It's over 20 years old and it's time to review it," Hatch said.