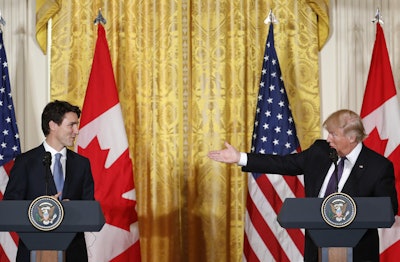 The Trump administration moved Monday to impose a 20 percent tariff on softwood lumber entering the United States from Canada, escalating an intensifying trade dispute between the two countries.
The president announced the decision during a gathering with conservative media outlets at the White House Monday evening. Trump's initial comments were relayed by four people who were in the room and confirmed by an administration official.
On Twitter, Breitbart News White House correspondent Charlie Spiering quoted Trump as saying, "We're going to be putting a 20% tax on softwood lumber coming in — tariff on softwood coming into the United States from Canada."
The Commerce Department later announced it had reached a preliminary determination and would impose countervailing duties ranging from 3 percent to 24 percent on imported softwood lumber, with an average of about 20 percent.
One person in the room said Trump threatened that dairy could be next.
The U.S. and Canada typically enjoy a friendly trading relationship, but things have soured in recent months.
Trump has been railing against Canada's decision to change its policy on pricing domestic milk to cover more dairy ingredients, leading to lower prices for products, including ultra-filtered milk. Trump has called the move "a disgrace" that's hurting U.S. producers in dairy states like Wisconsin.
"It has been a bad week for U.S.-Canada trade relations," said Commerce Secretary Wilbur Ross in a statement. "This is not our idea of a properly functioning Free Trade Agreement."
The Canadian government, meanwhile, rejected the assessment, calling the duty "unfair and punitive."
"The Government of Canada disagrees strongly with the U.S. Department of Commerce's decision to impose an unfair and punitive duty," said Jim Carr, Canada's Minister of Natural Resources, and Chrystia Freeland, Canada's Minister of Foreign Affairs, in a joint statement. "The accusations are baseless and unfounded."
They warned the action would have a negative impact on American families who will have to pay more to build or renovate homes. And they said they would sue, if necessary.
According to the U.S. Commerce Department, imports of softwood lumber from Canada were valued at an estimated $5.66 billion in 2016.