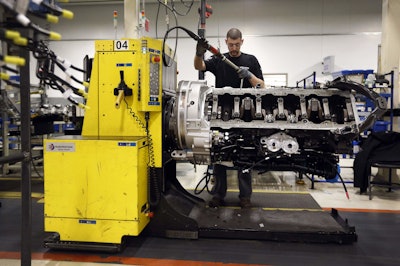 U.S. manufacturing output increased by 0.5 percent in January after a largely sluggish end to 2015.

The latest monthly industrial production report from the Federal Reserve pinned the manufacturing index for the first month of the year at 106.2, up from 105.7 in December.

Although the index was also 1.2 percent higher than January of 2015, the monthly increase was the largest since July as manufacturers struggled late in the year with high inventories and low foreign demand due to the strong dollar.

Manufacturing output declined in August, September, November and December; only a 0.3 percent gain in October prevented a five-month losing streak.

Last month, both durable and non-durable goods production showed increases of about 0.5 percent.
Among durable goods, motor vehicles and parts increased by the largest amount at 2.8 percent, while electrical equipment, appliances, and components showed a decline of 1.3 percent.

Business equipment production increased by 0.3 percent, in part due to increases in transit and industrial equipment. Defense and space equipment production, however, declined by 0.7 percent.

Food, beverage and tobacco products and chemicals reported the top gains of about 1 percent among non-durable goods; the apparel and leather and printing segments each fell by about 2 percent.

Overall, the Fed reported that industrial production increased by 0.9 percent in January, which was likely reduced slightly by a late-month winter storm. The jump reversed December's 0.7 percent decline but fell below the January 2015 level.

Industrial capacity utilization increased by 0.7 percentage points last month, but remained nearly 3 percent below its long-term average. The report expected industrial capacity use to increase 0.5 percent this year, including a 1.1 percent increase in the manufacturing segment.