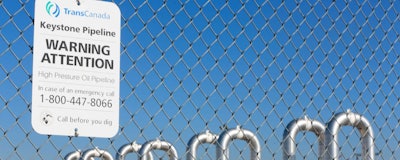 TransCanada this week announced the first loss in its history in the wake of the Obama administration's rejection of the Keystone XL pipeline.

The Canadian energy giant reported a $1.79 billion loss in the fourth quarter, which included a charge of $2.08 billion related to the Keystone project. The company lost some $860 million for all of 2015.

Despite the Keystone decision and sustained low oil prices throughout 2015, the company's non-Keystone results for the latest quarter exceeded expectations. TransCanada also increased its dividend for the 16th consecutive year.
"Excluding specific items, comparable earnings and funds generated from operations reached record levels while we continued to safely and reliably meet the needs of our customers across North America," President and CEO Russ Girling said in a statement.

Company officials, however, said on its earnings call that 10 percent of its workforce was cut in the fourth quarter due to sliding oil prices, and CFO Don Marchand added, "I wouldn't say we're done at this point."
TransCanada first filed for regulatory approval of Keystone XL in 2008 in hopes of connecting Canadian oil fields to refineries on the Gulf Coast.

In November, the White House rejected the project. President Obama suggested that it would not serve the national interest and would undermine its climate change initiatives.

TransCanada last month filed a challenge to the decision in federal court and will seek billions in damages for alleged violations of the North American Free Trade Agreement.

Meanwhile, TransCanada also warned of possible regulatory delays in its proposed Energy East pipeline project between the oil fields and Canada's Atlantic Coast, which sparked political opposition across the border.