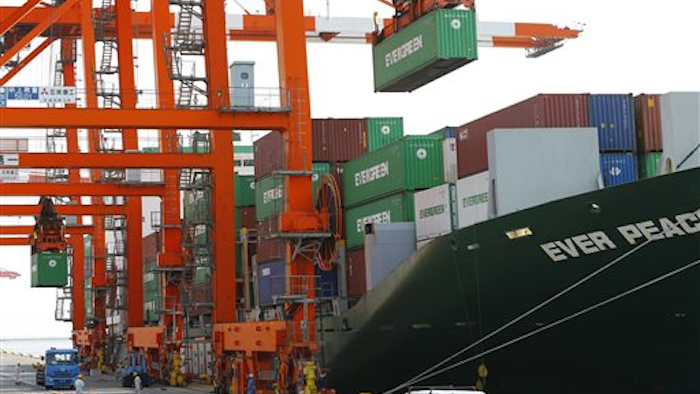 Japan's trade deficit narrowed in September to 114.5 billion yen ($955 million) but exports fell short of expectations as demand from China waned.
The monthly trade data released Wednesday showed exports rose only 0.6 percent from the year before to 6.42 trillion yen ($53 billion) while imports fell 11 percent, to 6.53 trillion yen ($54 billion).
Japan's trade balance has improved with the fall in prices of crude oil and other fuels. In September, imports of oil, gas and coal fell 36 percent from the year before.
Many economists had forecast that the trade balance would be in positive territory for the month, but the slowdown in China has hindered a recovery in exports, adding to pressure on Japan's central bank to expand monetary stimulus to help revive growth.
Exports to China fell 3.5 percent from the year before, to 1.11 trillion yen ($9.2 billion). Meanwhile, exports to the U.S., now Japan's biggest overseas market, jumped 10.4 percent to 1.28 trillion yen ($10 billion). Imports from the U.S. edged 0.1 percent lower to 617 billion yen ($5.2 billion).
The trade deficit in September of 2014 was 962 billion yen ($8 billion). In August this year it was a deficit of 569 billion yen ($4.8 billion).
If oil prices rise and the Japanese yen's value depreciates as expected, the deficit will likely expand again, said Marcel Thieliant of Capital Economics.
Surveys of manufacturers suggest "export volumes will continue to fall in coming months," he said in a commentary.