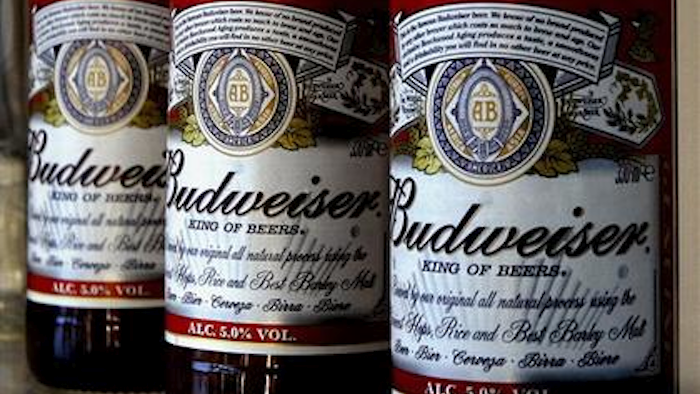 ​SABMiller met with investors Friday to underscore its strength as an independent company, as the world's second-biggest brewer seeks to head off a takeover by larger rival Anheuser-Busch InBev.
SABMiller said the meetings focused on the company's accelerating growth and a stepped up cost-cutting program that will target $1.05 billion of savings by March 2020, more than double the previous goal of $500 million by 2018.
"We are continuing to remove duplication across markets, bringing specialist expertise in areas like procurement under one roof, and standardizing common processes," CEO Alan Clark said in a statement. "It results in our markets being freed up to concentrate on what they do best — growing revenue with local consumers and customers."
The announcement comes two days after SABMiller rejected a 68 billion pound ($104 billion) takeover bid from AB InBev, the Belgium-based company that makes Budweiser. The offer of 42.15 pounds a share is 11 percent more than AB InBev's initial proposal and 28 percent higher than SABMiller's stock price before the bid was announced Sept. 16.
AB InBev is trying to create what it calls "the first truly global beer company" by combining its business, which is focused on the Americas and Western Europe, with SABMiller's brands in Africa and Eastern Europe. The deal would create a company with 31 percent of the global beer market.
Tensions surrounding the proposal have risen in recent days, with SABMiller Chairman Jan du Plessis saying that AB InBev was "very substantially undervaluing" his company.
In response, AB InBev CEO Carlos Brito accused SABMiller's board of refusing "to meaningfully engage with us." On Thursday, he appealed directly to SABMiller shareholders, asking them to "voice their views" and not "let this opportunity slip away."
Altria Group, SABMiller's largest shareholder, said Thursday that it supports AB InBev's offer and believes the merger "would create significant value." Altria, whose companies include cigarette-maker Phillip Morris USA, owns 27 percent of SABMiller.