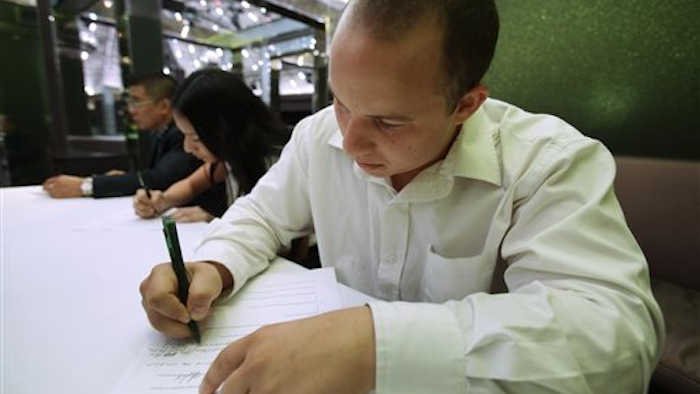 North Carolina's unemployment rate in October dropped to 6.3 percent, down from 6.7 percent in September, the state Commerce Department reported Friday.
The state's 4.2 million nonfarm jobs in October outstripped the number of positions that existed when the country's Great Recession began in December 2007, state officials said.
The state's employers added 17,200 workers in October and nearly 85,000 in the past year — trailing only a handful of larger states, the U.S. Bureau of Labor Statistics said Friday.
The state's improving unemployment rate remained higher than the national measure of 5.8 percent in October.
"The North Carolina unemployment rate went down significantly," said John Coleman, an economics professor at Duke University's Fuqua business school. "We're still above the national average, but we're doing the right things to catch up and maybe even get an overall lower unemployment rate soon."
But compared to the size of the workforce, North Carolina added 2.1 percent more workers in the past year, not much more than the 1.9 percent rise in the country as a whole, said Alexandra Sirota of the North Carolina Budget & Tax Center, a unit of the liberal North Carolina Justice Center.
"We are performing basically on par with the country in terms of our job growth," she said. "Our gains, while yes, important that we're moving in the right direction, aren't a result of policies that are unique to North Carolina. They're more related to improvements in the broader national economy."
Coleman does credit conservative measures taken by Gov. Pat McCrory for helping get the state's economy on track, especially a law passed by fellow Republicans in the General Assembly to cut unemployment benefits, terminate extended benefits for the long-term jobless and raise taxes on businesses. State leaders took those steps to speed up repayment of $2.8 billion borrowed from the federal government to keep paying jobless benefits during double-digit unemployment rates during the recession.
Cutting the length of time people could collect unemployment benefits likely pushed more North Carolina to find jobs, Coleman said.
"The success of that, it's costly in terms of some people but what you've seen now is the overall benefit," he said.
McCrory promised greater job expansion once the unemployment insurance debt is paid.
"Employers will have the capital and stability to make even more job-creating investments," McCrory said in a statement. "Achieving these milestones was not easy, but we will continue to make the tough decisions that will lead to a more prosperous North Carolina."