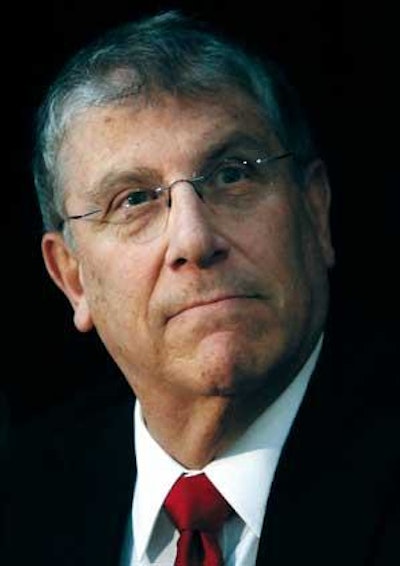 Independent governor's race candidate Eliot Cutler accused Republican Gov. Paul LePage on Tuesday of leaving taxpayers on the hook for $15.9 million over seven years with a failed deal that aimed to save a pulp and paper manufacturer that recently filed for bankruptcy.
Cutler said that LePage negotiated a bad deal with Portsmouth, New Hampshire-based Cate Street Capital, which manages the Great Northern Paper Co. mills in Millinocket and East Millinocket. The East Millinocket paper mill shut down in January, and last week the company declared bankruptcy.
Cutler criticized LePage for signing bills that allowed Cate Street to benefit from $40 million in tax credits.
"Time and time again throughout this whole sorry mess, the LePage administration was Cate Street's best friend and most willing enabler," said Cutler, who trails in the polls behind LePage and Democratic candidate Rep. Mike Michaud with just more than a month until Election Day.
The Cate Street deal leaves the state responsible for paying $15.9 million to investors, a spokesman for the Finance Authority of Maine said.
LePage's campaign countered Cutler's contentions by saying that the bills were passed with bipartisan support in an effort to save the mill. The governor is still working to prevent the mill from being liquidated and to find a new buyer, campaign spokesman Alex Willette said.
"Governor LePage and the legislature actually rolled up their sleeves to find a solution to get these people in the Katahdin region back to work," Willette said. "Certainly he would have loved to have seen a different outcome."
Cutler had been blasting the governor over the handling of the case even before Great Northern filed for bankruptcy last week. All told, the company owes more than $50 million. Chapter 7 proceedings typically involve liquidation of a company to repay creditors. The East Millinocket mill's closure resulted in more than 200 layoffs.
Cutler also criticized Michaud, who worked at the mill in East Millinocket for nearly 30 years, for not raising questions about the efforts to save the mill.
Michaud dismissed those comments and accused Cutler of "politicizing the bankruptcy of Great Northern."
Cate Street did not return a call seeking comment.