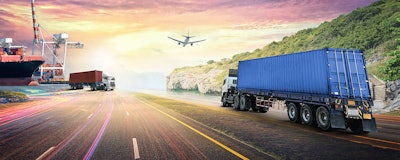 We sat down recently with Glenn A. Steinberg, EY Principal and Global Supply Chain Leader, Advisory, and Matthew Butler, JDA Software Industry Strategies Director, to discuss challenges and opportunities facing manufacturers and their supply chains. Here's what they shared with us.
When we consider the biggest challenges and opportunities facing manufacturers and their supply chains today, profitable growth is certainly at the top of the list. As the on-demand marketplace drives shifts in business strategies, this creates a double challenge for supply chain professionals because the supply chain needs to be responsive in addressing business needs quickly and efficiently, but also needs to be reinvented to address the new realities of operating in a digital world.
Today's supply chain must be able to handle the complexities of shifting consumer behavior, the growth of omni-channel retail, and the increasing demand for personalized, authentic and ethical products. At the same time, supply chains must enable companies to cut costs, increase flexibility and scale, and improve methods to guard against cyberattacks, while driving profitable growth.
Adapting to rapidly changing markets, disruptive technology trends and evolving customer needs will require change from manufacturers. The traditionally linear supply chain approach must evolve into a responsive, agile supply chain ecosystem of suppliers, partners and customers, including in-house and outsourced production and services. To accomplish this, the leadership team must determine the different supply chain strategies that are needed for various segments of the business. This may result in a far-shore production strategy where price is key for some segments, while at the same time employing a near- or on-shore strategy where flexibility and responsiveness is more critical for other segments. In either case, it may require leveraging partnerships to provide these services, or investing in house to do so.
This diversification of supply chains is helping manufacturers create more responsive and streamlined networks, while the adoption of centralized IT platforms is providing greater flexibility and scale. By bringing in the right blend of analytics, robotic process automation (RPA), artificial intelligence (AI) and other disruptive technologies, manufacturers can deliver insight, reduce manual hand offs between processes, and move toward increasingly prescriptive exception management and ultimately autonomous operations — all while meeting evolving customer needs.
Additionally, the data generated in supply chains is worth its weight in gold. There is a wealth of existing supply chain data in manufacturing organizations that most companies are only starting to explore. Cloud-based "data lakes" allow for the cost-effective capture and collation of both structured and unstructured data sources. As this existing data is harnessed and then coupled with external "big data," such as localized weather forecasts, social media data, and Edge IoT signals, companies using the right 'control tower' analytics platform can begin to really unlock hidden insights and real-time, cause-and-effect alerts based on analytics and AI.
To survive in this increasingly competitive environment, manufacturers must methodically and strategically continue to invest in technology to maintain a competitive advantage. Leaders must focus on the shifting dynamics of their industries, prioritize key business issues and opportunities, and seek the right blend of technologies to drive operational effectiveness — which will enable them to find the right tool for the job, rather than fit the job to the tool. This approach ensures that the business benefits of technology adoption are clear from the outset and can be quickly proved in initial proof of concepts. It will then be easier to make the case for scale-up investment, and success quickly leads to success. This strategy of sequencing initiatives helps manufacturers avoid the common mistake of technology-led projects looking for a problem to solve. These often work technically, but rarely realize a return on investment. As a result, they don't scale and ultimately are considered to be of limited value by the organization.
From an IT perspective, a harmonized system of record and common planning system is clearly preferable to a patchwork of legacy platforms inherited through acquisition or devolved divisional decision making. However, even without a harmonized supply chain IT backbone, a lot can be done. Modern data analytics tools, RPA, AI-powered data cleaning and master data management can deliver competitive advantage through improving visibility and reducing cost, complexity and process latency.
As we consider this year and beyond, we believe manufacturers are just starting to see the potential impact of data science, AI and machine learning on their supply chain operations. Assuming Moore's law continues to hold true, we expect to see exponential advances in just a few years. This makes it critical for manufacturers to start adopting these technologies now — learning how they work and where to apply them — to avoid being left behind on what is set to be a steep evolution in AI.
There are a few examples already that point to an AI-driven future; in 2014 New Scientist reported on how the nightly repair and maintenance scheduling of Hong Kong's Metro — which includes 2,600 engineering works each week — is being planned by AI*. Despite this great example, most supply chains are still planned based on nightly batch processing and daily manual adjustment by hundreds of planners. If autonomous cars are possible then autonomous planning must also be, and we can expect to see a rapid uptake in the concept of the "self-driving" autonomous supply chain over the next few years.
We are at the start of the evolution and adoption of manufacturing business technology. Only a few percentage points of the data available today is being harnessed, and there is limited use of AI, process robotics and physical robotics in most manufacturing businesses. Road-legal autonomous vehicles are still in the test phase, but driverless forklifts are seeing increased investment in plant operations and centralized distribution. Additionally, advanced pick execution and sortation systems are seeing adoption in retail replenishment operations where throughput is a necessity. Both provide benefits in reducing exposure to labor spend and skilled resource availability.
Amid all this change, one thing is certain: the most forward-thinking businesses are disrupting their own business model rather than waiting for competitors and new entrants to disrupt it for them. Manufacturers that want to be part of this innovative group should re-examine their supply chains now to ensure they're fully prepared for the future.