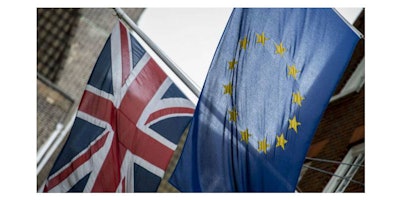 The results of the UK's Brexit referendum aren't playing nice with global business. The Sterling Pound has apparently hopped into a time machine, now perfectly happy to be worth less than what it was in 1985. Meanwhile, the yield on 10-year UK bonds dropped below one percent for the first time ever. U.S. and Japanese government-bond yields have also hit record lows.
Prime Minister David Cameron won't be PM for much longer; his upcoming resignation is creating a power vacuum that several candidates are scrambling to fill. These candidates have all vowed to forge ahead with the UK/EU divorce (by triggering Article 50 of the Lisbon Treaty), though they're undoubtedly disheartened to learn that EU leaders aren't interested in chatting about the future until Britain formally decides to ditch the Union.
It's a hot mess, and many analysts predict it'll remain that way for years to come. Is there any good news to come out of the Brexit referendum? If you're a UK-based manufacturer, the answer is a resounding yes.
My company has been analyzing the challenges now facing UK businesses, but have spotted a powerful short-term opportunity for UK manufacturers. Companies that embrace selling and marketing through online channels can win big in the near-term.
How? It hinges on two key factors: exchange rates and more exports.
Brexit has clearly made a major impact on the Pound's value, and it'll likely stay that way. Most pundits believe the depreciation will continue. This jibes with our analysis. We believe the Pound's value will fluctuate for several months, finally stabilizing at around 1.4 USD per GBP sometime next year.
For most industries, that's a long time for stability to kick in — but not so with UK manufacturers. Thanks to current exchange rate (which will continue in the short term), manufacturers see a benefit when selling in overseas markets. There, their products will sell for comparatively cheaper prices, which is very attractive for cross-border consumers.
In fact, buyers on the European continent are particularly inclined to engage, since they'll get far more bang for their Euro than in months past. A surge in reported sales, driven by these low prices, will generate more revenue for UK manufacturers in the near future than in months past.
UK production will likely increase, thanks to higher demand and local competition. Manufacturers who use components built in the UK stand to win even more, since domestic components will cost less than imported materials.
With time being of the essence, how can UK manufacturers move fast to sell their products in continental European markets and beyond? The secret, we've found, is found online. Companies that use websites to serve new overseas markets — in those markets' languages of choice — can swiftly boost conversions and sales.
Website localization solutions are more affordable and better than ever. The best ones can launch completely-translated, fully-operational websites in new markets in about a month. At that speed, UK manufacturers can remain ahead of the exchange rate, and maximize short-term sales on the continent.
Deploying a French website to serve France is far more affordable than launching a new brick-and-mortar location to serve customers. With savvy in-language ad spends and marketing, companies can quickly whip up interest in their new online endeavors.
However, a quick word of advice. According to numerous reports, Britain's vote to break from the Union has ticked off some Europeans. These buyers might be inclined to hold a grudge against UK-based businesses. (Nobody likes being the jilted lover, after all!) This could impact consumer trust, and sales.
However, there are smart ways to address this potential challenge. We've found success in using customized content to effectively serve local consumers. By using geo-location and other technologies, a translated website can dynamically serve content designed to resonate with shoppers from certain markets — or regions within those markets.
As scandalous as it might sound, this means a UK company's website can intelligently minimize its "Britishness" within particular markets, and play up other noteworthy, differentiating aspects of its offerings. This tactic can also be used to deliver authentic, regionally-preferred translations that really click with shoppers.
Crafting "trust campaigns" with customized content is especially compelling. We have a lot of experience in this realm. For instance, we recently helped a UK-based retailer woo skeptical, risk-averse American consumers with localized on-site promotional banners.
In this instance, the retailer wasn't well known in the U.S., and American shoppers weren't transacting. By dynamically presenting content that talked up the company's robust return and shipping policies, conversions increased.
Checkout rates grew by almost 30 percent in about a week, contributing to an incremental revenue gain of about £2,000,000. Indeed, we've seen an average 50 percent increase in conversion rates among companies that publish this kind of market-specific customized content on their translated sites.
In the end, it appears that Brexit will continue to make things a hot mess on the global economic stage for the foreseeable future. However, in the short term, savvy UK manufacturers can stand to gain ground — and increased, untapped revenue — on the continent and beyond through resonantly-localized online channels.
Charles Whiteman is senior vice president of client services at MotionPoint Corp.