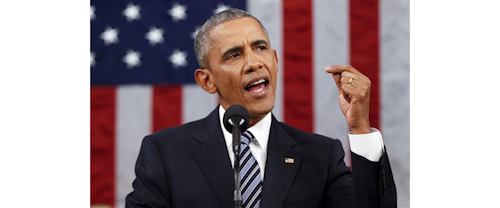 President Barack Obama discussed manufacturing and the state of the economy when he delivered his final State of the Union speech on Tuesday night.
Said AAM President Scott Paul:
President Obama cited economic progress in his State of the Union address, and he also noted the need to address income inequality. If he wants to address this, he need look no further than manufacturing, which had its worst year in 2015 since the Great Recession.

While the president was right to highlight economic progress, he missed an opportunity to address some of the core concerns that are holding back manufacturing. Yes, manufacturing has added nearly 900,000 jobs over the past six years, but that represents less than 40 percent of the factory jobs lost over the recession. Only 30,000 jobs were created in 2015.

Manufacturing is struggling right now, primarily due to a surging imbalance in the manufacturing goods trade, particularly with China. Layoffs are already occurring in steel and other industries, and those jobs are very difficult to reclaim. And the proposed Trans-Pacific Partnership won't be of much help to manufacturing if it doesn't address currency manipulation in a serious way.

The president deserves credit for the auto rescue and manufacturing hubs, no doubt. But those actions alone won't be enough to put American manufacturing on a truly sustainable path.
On the 2012 campaign trail, the president pledged to create 1 million new manufacturing jobs in his second term. Thus far, 384,000 new manufacturing jobs have been created.