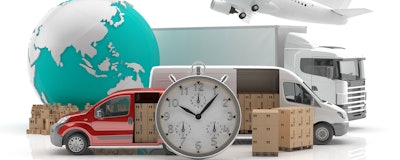 Adoption of track-and-trace technology is soaring among manufacturers across all industries. Spurring the move is the need to protect against costly product recalls, quality incidents caused by a lack of supply chain visibility, and unethical production practices, including the creation of counterfeit products. Through faster track-and-trace processes, manufacturers aim to gain greater supplier control and improve product and process quality in order to address these challenges. In this light, it's no surprise that research firm MarketsandMarkets predicts the global market for track-and-trace technology solutions will increase from $1.65B in 2018 to $3.93B in 2023, attaining a compound annual growth rate (CAGR) of 18.9 percent.
Regulatory Requirements Drive Track-and-Trace Adoption
While track-and-trace technology can help any manufacturing firm optimize its operations, regulatory requirements remain the primary driver for adoption. In fact, a recent informal survey of manufacturers found the majority believe that by 2021, 40 percent of countries will either have enacted legislation requiring track-and-trace and product authentication or have compliance legislation in final approval stages.
Today, there is a diverse array of industries that require track-and-trace compliance and reporting to government agencies on an ongoing basis. From aerospace and defense to automotive, chemicals, consumer packaged goods, distribution and logistics, food and beverage, medical devices, medical and patient services, maintenanceharmaceuticals manufacturers—all must meet federally mandated track-and-trace compliance requirements to stay in business. Fortunately, track-and-trace solutions are scaling and adapting to new regulations quickly, enabling manufacturers to design and produce innovative product lines while complying with regulatory requirements.
The essence of track and trace is to minimize and manage variable, unforeseen risks to suppliers, distributors, trading and technology providers and most importantly, customers. Therefore, the goal of any track-and-trace solution needs to first focus on how to attain greater supplier control, quantify and measure product quality, and provide a reliable system of record to track to the lot or container level. Finally, all track-and-trace solutions need to combine speed and scale to solve time-sensitive problems quickly. Real-time speed and scale are especially important in pharmaceutical supply chains where serialized packaging needs to support full traceability, product integrity, supply chain security, and patient safety.
Track and Trace Extends Across the Supply Chain
In the past, track-and-trace technology was limited to first-tier suppliers. Now track-and-trace processes are getting embedded deeper into supplier networks as every manufacturer at every tier in the supply network needs greater supplier visibility to mitigate risks and address more stringent compliance requirements. Meanwhile, track-and-trace technology is keeping pace with this demand as advances in integration platforms enable real-time data monitoring, making it possible to attain both scale and speed across diverse, globally distributed supplier networks.
The adoption of track-and-trace solutions across supply chains is providing manufacturers with several strategic benefits that extend beyond compliance. Improved supplier collaboration and visibility through track-and-trace technology reduces many supply chain risks by, for example, improving order fulfillment accuracy and resolving potential quality problems early before they escalate through supplier networks. Track-and-trace technology also ensures quality by improving demand visibility from manufacturers to suppliers to avert incorrect and low-quality orders. Most importantly, track-and-track brings exceptional speed and scale, enabling a real-time responsiveness to minimize recall, product quality and counterfeit product risks across supplier networks and ultimately protect customers.
Five Ways to Harness Track-And-Trace
Following are five ways that manufacturers can use a track-and-trace system to cut costs and mitigate risk while improving supplier control, quality and scale.
Reduce the risks, expenses, and impact of product recalls by providing accurate product genealogies in real-time. Manufacturers who track to the lot, batch or bin level where a defective part originates can minimize the impact of part failures that often signal the start of a product recall, saving millions of dollars. From a recall standpoint, product genealogies are priceless, since they are the roadmaps that help avert recalls from spreading. Using track-and-trace systems that support real-time genealogy search, it's possible to discover how and where a defective part was first introduced into production. These data and insights alone are invaluable in averting more costly and widespread recalls. With a given part's genealogy tracked and traced, it's possible to isolate finished products at risk and make more informed decisions regarding how best to handle the products already with customers. Streamlining the warranty claims process and averting large-scale recalls are two of the many benefits of having genealogies created with track and trace workflows.
Increase manufacturing efficiency quickly by having quality and traceability data available at all production locations. Improving the accuracy and speed of track-and-traceability information across all production locations enables greater collaboration and knowledge sharing company-wide. Studies of the Toyota Production System have shown that supplier-level quality, track-and- traceability data is valued more than money because its impact can easily lead to new sales and higher profits. The more expensive an asset, the more valuable real-time tack-and-traceability data is.
Maintain compliance with many of the manufacturing industry's most stringent standards. The costs of compliance continue to escalate in manufacturing, particularly for stringent regulations, such as the U.S. Federal Drug Administration (FDA) 21 CFR Part 820 quality system regulation. Track and traceability techniques, are proving to be one of the most effective strategies for ensuring compliance while reducing operating costs by improving supply chain and in-plant fulfillment efficiency. Through the use of track-and-trace solutions, manufacturers can improve their bottom lines by reducing inventory carrying costs, protecting against inventory obsolescence by mitigating risk, and shortening days sales outstanding (DSO), to name just a few examples. Track-and-trace systems also help to reduce stock-outs, eliminating duplicate chargebacks and reducing lost sales due to products being on allocation.
Mitigate risk and reduce fines for non-compliance, litigation costs, and possible class-action lawsuits. Manufacturers who prioritize track-and-trace as a core part of their supply chain management (SCM) and manufacturing operations gain the immediate benefits of being able to reduce the risks of litigation and class-action lawsuits by having real-time access to product genealogy data. Access to this data is invaluable in meeting regulatory filing dates to government agencies for all the nations a given manufacturer is operating in or does business with. In the most stringent industries, such as imedical device manufacturing, track-and-trace is proving to be invaluable in reducing non-compliance errors and eliminating costly legal fees and fines.
Increase inventory accuracy and forecasting to production planning, optimize manufacturing schedules, and improve supplier collaboration. A track-and-trace system that can scale quickly across an entire supplier network is invaluable in ensuring high levels of inventory accuracy and forecasting precision. Companies can attain higher production rates in each of their manufacturing centers when they know the specific levels of inventory and their relative status across a supply chain. Additionally, track-and-trace systems over time generate data sets that tend to show patterns, making it possible to anticipate shifts in demand. This insight contributes to greater forecast accuracy and the potential to optimize manufacturing schedules.
Within the next two years alone, nearly a third of countries will require some form of track-and-trace compliance. For any manufacturers with international business, now is the time to start evaluating and implementing track-and-trace systems that provide the accurate, real-time insights required for maintaing compliance, ensuring product quality, and enabling effective supplier collaboration.
Louis Columbus is a principle at IQMS.