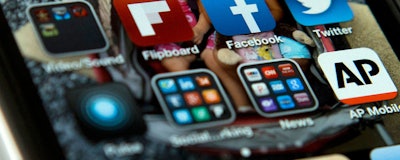 A couple of weeks ago, comScore, a market research company specialized on all things digital, posed the question whether we have reached "peak app". According to their findings, the time people spend using mobile apps is still growing, but the rate of increase has started to deteriorate.

This week, CB Insights released more data that suggests the same thing: the app economy may have passed its peak. CB Insights analyzed the company descriptions of thousands of startup companies receiving VC funding for the first time between 2010 and today, scanning for buzzwords that describe the companies' field of focus. While "app" is still the keyword that shows up in the most company descriptions, the share of startups working with apps in some way has declined for three straight years. It appears to be true that, following the app craze of the past few years, the market is cooling down a bit as many consumers have settled on a small number of apps they regularly use. According to comScore, U.S. smartphone users spend 84 percent of their app time within their five favorite apps.

While apps appear to be slowly falling out of favor with startups, other trends are emerging. Looking at the terms with the largest increase in mentions in startup company descriptions between 2010 and 2016 possibly allows us to glimpse into the future and gives us an idea of what the next big thing might be. According to CB Insights' analysis, these terms are "virtual reality", "machine learning" and "natural language".
This chart shows the percentage of VC-backed companies with the following words in their company description.