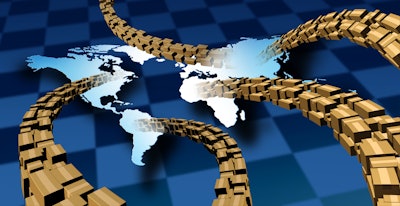 Aftermarket sales and services have become strategically important businesses for a growing number of manufacturers. One analysis of "leading OEMs" found aftermarket activity can account for as much as 40 to 60 percent of total revenue, and 50 to 90 percent of gross margin. Similar research by IDC Manufacturing Insights found 35 percent of manufacturers rely on aftermarket sales for more than half of their revenue.
With aftermarket activity expected to become even more important to profitability, manufacturers need to view these services as extensions of their brand, and a valuable way to connect with customers. Handled properly, aftermarket sales can deliver a superior customer experience, and help build lasting and loyal customer relationships.
First though, a business needs to understand what it will take to become a superior service provider, and commit to building that infrastructure. Analysis by Price Waterhouse Coopers warns that businesses first need to ask "what business are we in?" before promoting itself as a viable source. In other words, a business needs to be all in, or not even bother.
Nowhere is this more important than with parts repair and replacement. In some instances, a late part delivery can result in an assembly line shutdown, or a disabled piece of equipment or any number of other calamities. One of my company's customers, a manufacturer of customized coach buses, risks busloads of stranded passengers if we are unable to deliver the right parts on time. Believe me, that is quite an incentive to get the job done!
A growing number of manufacturers are turning to expedited services as a way to meet customer expectations and ensure efficiency. Not just for their "emergency" shipments, but as a way to handle all of their aftermarket orders. I know, the words "expedited service" conjure images of "Rolls Royce" service, of emergency planes taking off in the middle of the night carrying vitally important shipments to be delivered at exorbitantly high costs. But like most aspects of the logistics and transportation industry, expedited service has undergone a transformation in recent years, with technology and innovation allowing providers to offer greater efficiency and higher levels of service at surprising price points.
While "critical services" and "next flight out" are still key expedited components, the category now includes much more, and in many ways is perfectly matched for the industrial manufacturing industry.
Guaranteed Delivery. Whether a shipment requires an urgent intercontinental transportation solution, or time-certain delivery within the U.S. or North America, there is an expedited solution for every scenario. Although expedited services are generally associated with air service, expedited ocean and truck solutions are also available. In many instances, a shipment can take advantage of ground options that offer faster transit times than air service!
Flexibility. Since an aftermarket provider needs to be ready with a solution for a customer who calls with an urgent situation — think of the motor coach manufacturer I described earlier — a degree of flexibility is essential. Expedited service generally means that a comprehensive logistics solution will ready within a matter of minutes. Manufacturers are not beholden to a rigid pickup and delivery schedule. Instead, an expedited provider will have access to a wide range of assets, and will build the best solution from those options.
Globalization Issues. An expedited solution will offer seamless service across international borders, and efficient clearance through local customs processes. A shipment will arrive at a customs checkpoint with all paperwork ready to go, and where possible already pre-filed. All taxes/duties/fees will be paid in advance, and the shipment will be in compliance with all security and "other government department" mandates.
Depending on the situation, additional services may include:
Use of regional airports. Extremely busy airports can be avoided by rerouting a shipment to a less-busy alternative.
Maximal use of "customs-friendly" countries. Some countries are notoriously inefficient at clearing shipments through customs, while others can move shipments quickly. A logistics route can be crafted that avoids likely-difficult customs procedures.
Local couriers. Local personnel will be on the ground to oversee the proper handling of a shipment. That individual will speak the local language, be fully aware of airport logistics, customs processes and even local ground options. In some instances, the local agent will accompany the shipment to its final destination.
Inventory Management. Understanding where inventory is located at any given time, and being able to move a part on short notice is fundamental to aftermarket efficiency. It sounds easy, but an alarming number of businesses have little visibility into their inventory. Since relationship building is key to a successful expedited relationship, a service provider will have insight into a manufacturer's inventory, and know precisely where specific products are located when a customer places an order. In many instances a manufacturer will outsource the entire warehouse function to its service provider, further ensuring a fully integrated and seamless solution.
A growing number of industries find accelerated delivery is a good fit for their "normal" supply chain. In many instances, the benefits of expedited shipping — lower inventories, special handling, security, dedicated customer service – can justify the higher costs. In particular, the aerospace, pharmaceutical and retail industries have become top customers. But with its emphasis on customer satisfaction and guaranteed delivery, industrial manufacturers are ideal candidates as well.
For many manufacturers, expedited service is an investment in their customers' continued loyalty. This tends to be a wise investment since, according to research from the Gartner Group, a 2 percent increase in retention rate can create the equivalent of a 10 percent reduction in costs. Further, a 5 percent increase in retention improves profitability by 25 to 100 percent. Considering this, the price point of expedited services is worth it when you take into account the long term business value of customer retention and overall customer satisfaction.
As aftermarket services become an increasingly important profit generator for manufacturers, superior management of the customer service and logistics part of the process will be a make or break proposition. The reliability and efficiency of expedited service lets customers know their shipments are valued, and can provide manufacturers the edge in building long-lasting, profitable relationships.
John Costanzo is President of Purolator International.