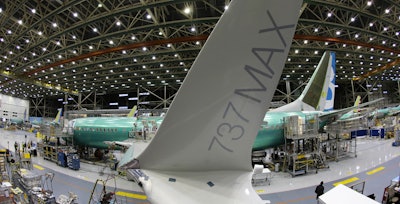 WASHINGTON (AP) — Orders to U.S. factories increased in January by the most in seven months, while a key category that tracks business investment plans rose by the largest amount in 19 months.
Factory orders rose 1.6 percent in January after two months of declines, the Commerce Department reported Thursday. It was the biggest jump since June, though it was driven by demand in the volatile category of commercial aircraft. At the same time, orders in a core sector that serves as a proxy for business investment rose 3.4 percent — the sharpest one-month gain since June 2014.
U.S. manufacturers' export sales have been hurt this year by spreading economic weakness overseas and by a strong dollar, which has made their goods less competitive. And a sharp fall in oil prices has hurt investment.
Demand for durable goods — items ranging from autos and appliances to airplanes and battleships — increased 4.7 percent in January, slightly lower than the 4.9 percent the government had estimated in a preliminary report last week.
Orders for nondurable goods, including chemicals, paper and clothing, fell 1.4 percent in January after a 1.1 percent drop in December. This category has posted a string of declines in part because of the big drop in energy prices. The data is not adjusted for price changes.
Orders for commercial aircraft jumped 54.4 percent, with smaller gains for military aircraft and autos and auto parts.
And orders for machinery increased 4.6 percent. This category was led by a surge in demand for mining, oil and gas equipment, an area that has been weak because of the cutbacks that energy companies are making in response to falling energy prices.
While January posted a strong overall gain, analysts cautioned against reading too much into one month of data. They noted that many major overseas markets are still struggling with weak growth. And the dollar has risen even further in recent months.
The Institute for Supply Management said this week that U.S. factory activity remained at a recession level in February for a fifth straight month. While the level of activity was up a bit from January, it stayed below 50, indicating that manufacturing was shrinking.