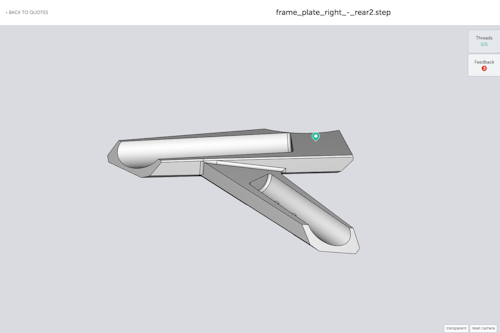 Fictiv today announced its new Agile Manufacturing Solution (AMS), a suite of production manufacturing services for supply chain and engineering teams who need end-use parts at high volumes of 100 - 500,000 units. AMS is available today at fictiv.com/agile.
Fictiv's AMS is designed to make overseas manufacturing more accessible and responsive to shifting market demands, with features like instant pricing and automated manufacturability feedback for injection molding and high-volume CNC machining. With the opening of a new headquarters in Guangzhou, China, Fictiv applies its founding principles of efficiency, transparency, and customer-first service experience to AMS, powered by Fictiv's proprietary cloud-based systems to manage complex data flows. As a result, product teams benefit from a faster, more streamlined way to get parts manufactured domestically or overseas.
AMS gives product teams access to the same fast, reliable service experience available with Fictiv's original Rapid Prototyping Solution.
Fictiv's AMS delivers the following features:
Instant baseline pricing and proprietary automated DFM systems for CNC machining and injection molding;
Online order tracking for visibility on order production and shipment status;
Vetted overseas supply base with specialization in rapid-response manufacturing, through Fictiv's headquarters in Guangzhou, China;
Intelligent routing system to capture project design intent and pair requirements with vetted manufacturing partners who have the right capabilities;
U.S. and China-based service teams to manage communications and quality control with manufacturers, led by managers with combined 50+ years industry experience;
ISO 9001-certified quality management systems to standardized quality assurance across all manufacturing partners;
This combination of intelligent automation and access to Fictiv's manufacturing network shaves months off of traditional volume manufacturing timelines. For example, Fictiv can produce a P20 steel tool capable of molding 100,000 units in just 2 weeks.