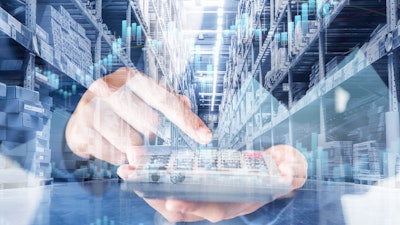 While much has been said about the need and desire for manufacturers to push forward or even expedite software, automation and other 'Smart Manufacturing' initiatives during the ongoing pandemic, that can be easier said than done. Manufacturers still have those pesky day-to-day issues to address like worker safety, avoiding downtime that can cripple supply chains, and maintaining logistics operations to ensure finished products make it to the final destination.
To offer some guidance on technology investments during these unique times, I recently sat down with Judd Marcello, executive vice president and chief marketing officer at Conexiom - a leading provider of automated sales, pricing and order management solutions.
Jeff Reinke, editorial director: How have you seen attitudes and perceptions towards software and automation investments change since the pandemic hit earlier this year?
Judd Marcello, Conexiom: COVID-19 has shown leaders that digital transformation can no longer wait. Distributors and manufacturers need to modernize their processes and remove non-critical expenses as soon as they can.
However, digital transformation takes many forms, and everything cannot happen at once. DT happens most effectively when it happens one business process at a time. The sensible place to begin is with those business processes that most directly impact revenue. Typically, this will also be related to that stage of the supply chain that enterprises can control: that section where the delivery is from their own warehouses to their end customers. By automating sales order processing, you can automate a key element of the revenue capture process.
With the right SaaS platform, manufacturers and distributors can implement the automatic conversion of emailed purchase orders into sales orders. The orders are entered into the company's ERP in moments, with zero CSR involvement, and with 100 percent accuracy. This technology exists in the market; onboarding it takes 30 days or less. Once deployed, sales order automation dramatically reduces the workload of customer service reps, so they can focus on the activities that minimize churn and maximize retention – protecting revenue capture by proxy.
They have time to engage patiently with customers, and troubleshoot in depth. They have the time to systemically upsell and cross-sell. During a pandemic, the companies that keep standards high will thrive.
JR: Arguably the biggest challenges stakeholders face in getting approval for these types of investments is addressing: 1. Potential implementation-related downtime; 2. Proving the ROI. Do you feel this is still the case?
JM: The ROI is easy to prove. Increased customer retention, transaction speed, additional time for CSRs to become value drivers are some of the main benefits.
The net result of this manual processing? Unavoidable errors. Purchase-order backlogs sitting idle overnight. Overtime processing costs. The unnecessary costs often run as high as $26 per order, and revenue capture is reliably slowed down. Every minute a CSR spends on the manual processing is a minute they aren't dedicating to actual customer service.
Dedicating hundreds of staff hours to this time-intensive, low-value process was inefficient before COVID-19. Clients need more attention than ever during the pandemic.
When this automation kicks in, CSRs win back up to a third of their entire workday. With this new bandwidth, they can: speak with customers about orders, issues, or queries; engage in more upselling and cross-selling; and ensure prompt order deliveries. These are the activities that keep customers happy, and can set enterprises apart from competitors.
JR: There are some competing perspectives when looking at automation-related investments in the current operating climate. Some are looking to save their money due to ongoing uncertainties, while others feel they need to invest in order to compete and survive. What are your thoughts?
JM: As the COVID-19 pandemic was unfolding, Sandy Shen, senior director analyst at Gartner, said: "This is a wakeup call for organizations that have placed too much focus on daily operational needs at the expense of investing in digital business and long-term resilience. Businesses that can shift technology capacity and investments to digital platforms will mitigate the impact of the outbreak and keep their companies running smoothly now, and over the long term."
Processing sales orders faster, more reliably, and more accurately speeds up revenue capture. At a time when electronic supply chains are so rattled, this is crucial. The coming months are set to be unpredictable. The manufacturers and distributors that achieve true business resiliency, and emerge strongly out of a strange 2020, will be those that don't leave any revenue on the table.
JR: If you could grant U.S. manufacturers one gift, wish or super-power, what would it be and why?
JM: If there is one thing 2020 has taught us, you can't future-proof your business. But you can make it future-ready. You planned for the worst-case scenario, but the worst case was even worse than you imagined. How do you fix what broke and get your business back on track?
You don't fix it. You transform it.
You have no option - digital transformation is imperative. All business is digital now. It's time to modernize every critical business process. It's time to ensure that you can stay agile, be resilient, and continue to keep your business thriving and customers satisfied.
Modern businesses are transformed business. They are ready for disruption that comes their way. They are future ready.