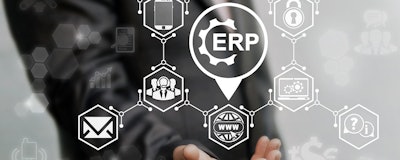 New ERP systems get implemented and existing ones modified in direct response to the most rapidly growing parts of a business. From product line extensions, new product lines to entirely new business models, ERP systems excel when they are enablers of profitable growth. With so many resources and knowledge available today, the probability of excelling at implementations is trending up. Think of any ERP system as a platform that can fuel new business creation and help manufacturers deliver value to customers.
How To Intentionally Implement An ERP System
The best ERP implementations have an overabundance of intentional focus to detail; an intensity to excel at each phase of the project plan, clear accountability, and intensity of ownership that often starts at the C-level. When an ERP implementation starts with a clear business objective combined with insight, expertise, and knowledge of internal systems the probability of success exponentially increases.
The following are ten lessons learned from IQMS and Panorama on how to successfully implement an ERP system:
Have clear business goals supported by project-based and operational analytics, metrics, and Key Performance Indicators (KPIs)? Emphasize the importance of setting, measuring and reviewing productivity goals before, during and after the implementation. Identify, quantify and assign financial value to expected improvements to set target ROI. Measure and communicate them to the implementation team members, the executive steering committee, and workers.
Benchmark current operations to get a baseline of performance to measure progress against. Understand and define your current and future state processes before deploying new software. As much as possible, try to use the configuration settings and templates provided by the software provider to tailor the business logic to match your preferred business processes.
Rely on an organized stage-gate process that the project lead owns to keep customization requests to the implementation of scope. Only customize "differentiators" giving your business its secret sauce. Limiting the number of customizations will keep the implementation marching toward completion. Typically, 70% of companies will have some customization and keep this beast under control is the goal.
Consider hiring an experienced independent ERP consultant to add to your bench. They can be a strategic partner from planning through implementation. You can also use them strategically for unbiased software selection, support or organizational change management initiatives.
Create, implement and track how communications and change management plans are working. Both the communications and change management plan have to serve those most impacted or affected by the new systems' implementation. The goal is to overcome resistance to change with superior knowledge and status of the system and what business goals it is supporting. Vary your communication style to get your message across in different ways.
Identify and reward the power users/super users who will be resources and trainers for the team. Team members typically feel more comfortable asking peers for guidance. Carefully plan to train team members for their personal daily use of the system during the testing and data conversion process. Then, refresh the training again just before the go-live to minimize loss of software use skills. Have super-users on hand to provide timely support.
Celebrate team successes and explain how these wins will impact the company's future. Always be focused on creating change management and ERP system champions. The goal is to provide employees with a clear view of what success looks like. This is essential for successful change management.
A project team may evolve but should never end. ERP is all about continuous improvement. Typically, when new software is installed all features are not being fully utilized as absolute core processes are prioritized first in the original implementation. Having an internal team dedicated to this and other technology enhancements is a best practice. Company managers often report that their team's use of their new ERP is only a fraction of the available useful software features.
Avoid trying to "boil the ocean" when it comes to operations technology. Instead of simple pilot connections to a few machines to gather only relevant measurements for real-time analysis. Manufacturing execution software (MES) now utilize integrated, automated data captured from process equipment, barcode scanners and in-line automatic inspection equipment to provide real-time, accurate information for software to process and report on.
Understand that Industrial Internet of Things (IIoT), Industry 4.0, and smart manufacturing adds another dimension of complexity that needs to be evaluated relative to business goals. On the positive side, these emerging technologies can provide greater insights than ever before. On the downside, they are expensive and add a layer of complexity to any implementation. It's best to ask just how great the business value these technologies deliver before initiating them into an implementation plan or strategy.
All successful ERP implementations are more of a journey and are rarely a one-and-done project. Just as every aspect of a manufacturing company contributes to customer satisfaction and delivering value, the truest test of any ERP implementation is that it provides a foundation for strong, stable growth of the business for years to come. When C-level and top-level executives have strong ownership and intention to excel at implementations, positive, lasting effects happen on the shop floor and in every product delivered to a customer.
Bob Blanchette is Marketing Manager at Panorama Consulting Solutions and Steve Bieszczat is Chief Marketing Officer at IQMS.