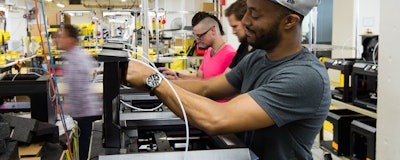 Design innovation is vital to for any product development process. This rings true especially for small and medium sized enterprise (SME) manufacturers as they look to compete against larger, more established organizations. For this piece we are defining SMEs as those with $500 million revenues or less.
According to Frost and Sullivan, SME manufacturers with even the smallest scale facilities are using technology to bring new competitive products to market faster. SMEs have become a powerful force and are disrupting the conventional market through innovation. Product Lifecycle Management (PLM) is a key driving part of this transformation. Joe Barkai, former Product Lifecycle Strategies Manufacturing Insights vice president for IDC agrees, states that "smaller companies are increasingly using PLM not only because they are required to do so by their customers, but also because PLM systems are becoming more flexible, accessible, and easier to implement and use."
Thus far, few PLM vendors have focused on the SME market. The larger PLM players are realizing the market opportunity and are trying to strip down their large, often-cumbersome enterprise PLM system in a vital attempt to try to adapt better to SME's requirements. The only problem is that since these systems were not designed for this market, it is difficult to make them fit into this market. Larger PLM systems were not architected with out-of-the box functionality. These systems must be customized to meet the needs of the SME, which results in additional challenges including expensive consulting services and difficult upgrade paths. For an SME manufacturer, this lends all the more reason to be very selective when choosing the right PLM solution for their business.
Design of the PLM System
For SMEs choosing a new PLM system, it often makes the most sense to choose a software developed from the start to address their specific needs — thereby avoiding any configuration and implementation issues. The SME market is growing fast in many sectors like telecommunications, electronics and medical devices.
Additionally, small and medium scale product manufacturers are leveraging the digital transformation, which has accelerated by breakthroughs in technologies such as cloud computing, Internet of Things (IoT) and analytics. These types of technologies are fostering enhancements in both CAD and PLM solutions. For instance, a great example of a breakthrough that has helped change the playing field can be seen with cloud computing.
According to Louis Columbus, vice president of marketing at iBASEt, "approximately 78 percent of U.S. small businesses will have fully adopted cloud computing by 2020. This more than doubles the current 37 percent in 2015." Cloud usage is particularly valuable to SME manufacturers in North America that have small IT departments and may be overwhelmed with keeping their systems up and running. For these SMBs, cloud-based delivery of updates and enhancements along with subscription-based pricing models makes budgeting for PLM services favorable and much more manageable.
Due to SMEs adapting rapidly to these new technologies, they are better able to redefine their industrial processes, and selectively choose which features and functionality are really needed for streamlining their product engineering and design processes. For instance, SME manufacturers have become smart in how they are prioritizing their requirements. They want an intuitive graphical user interface to facilitate complete user adoption. They also look for highly configurable functionality to meet their current and future application needs — not only in potentially growing the number of users but also scaling up application size and features — and they want all this without the need for consulting.
PLM Features and Outlook
The primary difference between selecting a PLM supplier that has designed their system specifically for SMEs vs. a PLM supplier that has developed their system for large manufacturers usually has to do with the characteristics of the features and functionality supplied. PLM systems designed for smaller companies tend to focus deeply on providing functionality that will have more bearing on optimizing a SME manufacturer's design process rather than requiring customization and consulting efforts to get the functionality they need.
Bill of Material (BOM) management is very important to the SME and a key component of the product definition. An inaccurate or incomplete BOM can cause lost weeks in a schedule and result in wasted production runs. Investing in a solution to automate, streamline and control BOM management and ensure BOMs are always up-to-date and accurate tends to be a higher priority.
Considering present trends in the manufacturing sector, PLM is maintaining its position as a key component in a manufacturer's critical strategy and delivers on a broader perspective: innovation and faster time to market. SMEs have never been better poised to stay at par with larger competitors.
According to Research and Markets' recent 2015 report, the global PLM market is playing a major role in helping SME manufacturers fuel the economy. And with that help, PLM developers have benefited with generated revenues of $40.26 billion in 2014 and projected to grow at a CAGR of 8.1 percent within the forecasted period of 2015 through 2022. The PLM market is predicted to reach a market size of U.S. $75.87 billion by 2022. Additionally, the Research and Markets report depicts that the market for both on-premises and cloud-based solutions are being substantially driven by the demand from SMEs. The report shows that cloud-based PLM offers the SME manufacturers more options to configure solutions to their specific business and engineering requirements. The rapidly growing need for product development based on systems engineering, emergence of product complexity, continued growth of manufacturing in emerging economies, and expanding adoption of a more holistic end-to-end PLM solution all contribute to the documented growth in the PLM market.
Regulatory and Business Issues
Generally, larger manufacturers are looking to implement an end-to-end solution set from design through manufacturing for automation and factory-floor operations. The PLM providers serving large manufacturers have expanded their scope to include manufacturing operations and MES solutions. While SME manufacturers tend to be more interested in having PLM help them manage increasing product complexity, outsource manufacturing partnerships and customer demand. They want to support better internal and external collaboration and improve relationships with suppliers. It is about focusing on the right capabilities such as functionality to accelerate product cycle times, reduce data errors, production delays and associated costs. It is all about implementing a PLM system that improves visibility and planning and can manage by exception, if needed, all while ensuring product quality and regulatory compliance (RoHS, REACH, FDA, FAA, Quality Systems).
Other key characteristics that have proven important ones in shortening product development cycles come in the form of capabilities to manage all product, project, quality and training records in a single environment — essentially the automation of typically manual processes while at the same time eliminating disparate data sources. By selecting the right system, SMEs can reduce product development costs by leveraging engineering with business-level data to support better design practices. It will help reduce late-stage scrap, potential re-work and data duplication.
Quality Management
PLM solutions geared to SME requirements can help identify potential quality issues that may involve product data, engineering changes, documentation, CAPA (corrective and preventive action), supplier issues, customer complaints/returns, non-conformance and training records information. SME manufacturers have the need to access quality data during design to help better identify trends and common issues and meet compliance guidelines.
A PLM system with integrated quality management provides SMEs with the ability to connect quality data to the product record, which helps to address quality issues early on during the design stage, adhere to Good Manufacturing Practice (GMP/CGMP) and regulatory compliance guidelines, and eliminate the need to purchase a separate quality system. It also helps the SMB to drive quality data back to engineering so engineering has access to the 'voice of the customer' in order to improve product design. Taking it a step further, PLM systems that also integrate Training Records management can help SMEs, particularly those in the medical device industry, properly track and manage training events, machine calibration and adhere to Quality Systems compliance.
Overcoming Challenges
Despite the business challenges for SMEs with regard to resources constraints, specific pricing requirements and sustainability, SMEs are well recognized as innovators. They are typically more flexible than their larger counterparts. Possessing a simpler management structure, SMEs are generally much more agile and nimble, which is often recognized as a key differentiator. It lends to swift decision-making and substantially better responsiveness. These types of companies are more inclined to deliver higher and more personalized levels of customer service. They tend to value their customers more because they have had to fight harder to win them, and it affects their business more when they lose them. Additionally, there is a risk when a customer's supply chain comprises a few large vendors can very much be at risk when one of those vendors is temporarily unable to supply. It is much better to create a more balanced supply chain by having both large and small supporters and naturally more resilient.
PLM for SMEs
With the ever-greater focus on innovation and time-to-market agility, the challenges that were once stumbling blocks for the largest manufacturers are now bearing down on SME manufacturers as they seek to optimize product development and engineering processes in an effort to gain a competitive edge. Operational efficiencies improve with PLM because groups all across the value chain can work faster and more effectively through advanced information retrieval, electronic information sharing, comprehensive process and product auditing, the management of engineering change orders, bill of materials, and quality control. With all the functionality that is available, it is important to choose wisely.
When it comes to deciding which PLM solution will work best for your organization, it is always a good bet to choose a supplier that matches with the size of you as a manufacturer. For example, the small manufacturer is within $50-$100M turnover, the medium manufacturer falls within $100-500M and the large enterprise is everything greater than $500M. The smaller to medium sized PLM solution providers offer certain specialties and understand well the plight of SMEs.
Chuck Cimalore is CTO at Omnify Software.