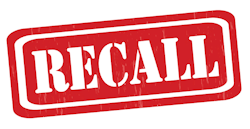 WASHINGTON, Nov. 8, 2017 (USDA FSIS release) — Nestle Prepared Foods Company, a Mount Sterling, Kentucky establishment, is recalling 26,400 pounds of pork and beef products due to misbranding and undeclared allergens, the U.S. Department of Agriculture's Food Safety and Inspection Service (FSIS) announced Wednesday. The product(s) contains eggs, milk, soy, and wheat, known allergens, which are not declared on the product label. 
The frozen not-ready-to-eat (NRTE) pork and beef hot pocket items were produced on September 21, 2016, January 10, 2017 and January 13, 2017. The following products are subject to recall:
2,400-lb. bulk packages of "Nestle Hot Pockets BBQ Burger Bites."
16,800-lb. bulk packages of "Nestle Hot Pockets 3 Cheese Bacon Bites."
7,200-lb. bulk packages of "Nestle Hot Pockets Sausage, Egg, and Cheese Snack Bites."
These items were donated to a charitable organization, in which the product was further distributed to a food bank in Missouri. The products may have been repackaged and further distributed and sold to additional food banks in Missouri. The products do not have the USDA mark of inspection and do not identify the ingredients.
The problem was discovered on October 26, 2017 by an Office of Investigations, Enforcement and Audit Compliance Officer during routine in-commerce surveillance activities.
There have been no confirmed reports of adverse reactions due to consumption of these products. Anyone concerned about an injury or illness should contact a healthcare provider.
Consumers who have purchased or received these products are urged not to consume them. These products should be thrown away or returned to the place of purchase.