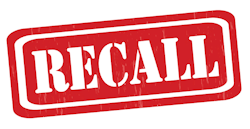 Indianapolis (November 7, 2017) — Recalled FDA food units increased 19 percent to 106.6 million in the third quarter of 2017 — higher than 20 of the last 22 quarters — and public health risks rose sharply due to a spike in undeclared food allergens found in food products, according to the Q3 2017 Recall Index from Stericycle Expert Solutions.
The Recall Index, which reports quarterly on recalls in the food, pharmaceutical, automotive, medical device, and consumer product industries, found that FDA food recalls declined 11 percent in Q3 2017 to 158 recalls. While that would usually be seen as good news, the scale and severity of the recalls were troubling.
Of the FDA recalled food units in Q3, 95.6 percent were considered Class I threats – the most serious health-threatening classification. Nearly all (96.9 percent) of the recalled units were because of undeclared allergens, which have been a consistent cause of all food recalls (38.9 percent) for the last four quarters. The top allergens from Q3 2016 through Q3 2017 were milk, followed by nuts, soy, and wheat. The number of pounds of food recalled by the USDA dropped (by 27 percent) but allergens accounted for 62.5 percent of recalls.
About the Stericycle Recall Index
The Stericycle Recall Index is the only report that aggregates and tracks recall data to help manufacturers and other industry stakeholders navigate the regulatory environment and identify trends. Each quarter Stericycle analyzes data from the U.S. Consumer Product Safety Commission (CPSC), the National Highway Traffic Safety Administration (NHTSA), the FDA, and the USDA. For more information, please visit www.stericycleexpertsolutions.com/thought-leadership.
"Allergens continue to be a leading cause of food recall activity, and manufacturers still struggle to find a solution," said Mike Good, Vice President of Marketing & Sales Operations, Stericycle Expert Solutions. "It is a growing concern because as the number of allergen-caused recalls have increased, so has the number of people with food allergies in the U.S. The Center for Disease Control (CDC) estimated that 4 to 6 percent of children and 4 percent of adults now suffer from food allergies, causing approximately 30,000 emergency room treatments and 150 deaths each year."