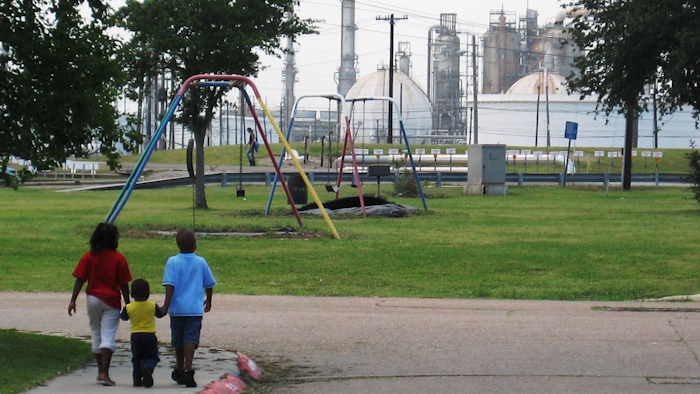 The Houston-area chemicals industry has been going through a boom in recent years, thanks to low natural gas prices. Last year, the American Chemistry Council counted at least 99 projects underway in the Lone Star State, including new plants and expansions in Houston, Beaumont and more.
And for those who work at chemical facilities or live nearby, the threat of a dangerous incident is ever present.  
Earlier this week, the Houston Chronicle published its first part of an investigative series that reveals exactly which chemicals are being stored where and what the risks are to the public. To assess their data, the Chronicle teamed up with chemical safety experts at Texas A&M and discovered that the chemicals are not only in close proximity to millions of people — those residents are often unaware of the risks.
The investigation also found varying degrees of safety compliance among chemical plants around Houston. Some companies, such as AkzoNobel, stood out for their safety protocols, while others continue to get cited by the Occupational Safety and Health Administration.
It's an issue that has been well-documented on this site, as well as others, but many say not enough has been done yet to monitor safety at many chemical plants and keep the public up to date.
Here's a look at the investigation's findings, by the numbers.
2,500 = Businesses with chemicals inventories that were analyzed by the Chronicle and Texas A&M.
80 percent = Facilities analyzed that house an amount of chemicals dangerous enough to pose serious harm to the public and also have 10,000 or more people living within a 2-mile radius.
12 = Explosions, fires and toxic releases that have been reported in the Houston area since November 2014, when a methyl mercaptan leak at a DuPont plant in La Porte killed four workers and injured another.
10 million pounds = The amount of methyl mercaptan that LyondellBasell can house in its Houston facilities — more than 430 times what was released during DuPont's La Porte plant disaster.
17 = People have died in incidents involving hazardous chemicals nationally since 2014. In the 93 reported incidents, 573 people have also been hospitalized.
75,000 pounds = The maximum amount of aluminum phosphide that could be stored at Degesch America's warehouse just north of Pearland. The pesticide is so dangerous, after 2 pounds of it was placed in the ground around a home in Utah to kill rodents, it also killed a family's 4-year-old girl and her baby sister. Degesch stores the chemicals within 200 feet of a local theater.
$100,000 = OSHA's citation for Syntech Chemicals after a 2002 fire ignited several 10,000-gallon tanks of methyl alcohol at the company's plant. Investigators found that the fire was caused by an overheated oil reactor. Three months later, the tanks caught fire again. OSHA reported that the company ran its plant without properly inspecting its safety valves for 11 years. The company has since rebuilt the plant and updated its safety features.
983 = Substances evaluated by Texas A&M. The chemicals included the likes of triethylaluminium — a colorless liquid that's used to produce polyethlyne and was part of igniter mix used for the first stage of the SpaceX Falcon 9 rocket. It also ignites immediately when it comes into contact with air. The Chronicle noted that AkzoNobel, which handles the chemical at its La Porte facility, gave the paper an in-depth report of its safety precautions when working with triethylaluminium.