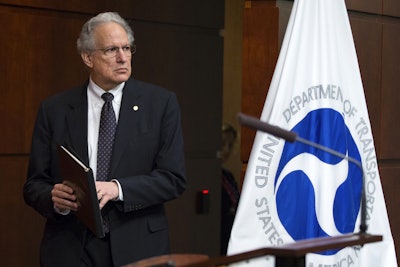 Federal transportation regulators on Wednesday announced plans to more than double the number of Takata airbag inflators subject to an already massive recall.

The National Highway Traffic Safety Administration this summer will release details on the expanded recall order, which is expected to add 35 million to 40 million inflators in "the largest and most complex safety recall in U.S. history."

The agency previously recalled nearly 29 million inflators over concerns that they could explode and send shrapnel into vehicle interiors. At least 10 deaths in the U.S. are blamed on the defect.
In the wake of research showing that the propellant used in the inflators can corrode under hot and humid conditions, the NHTSA elected to recall all Takata ammonium nitrate inflators that do not include a chemical drying agent.

NHTSA Administrator Mark Rosekind noted that the most dangerous inflators were already recalled and that the expansion will be rolled out to replace additional inflators before they become dangerous.

The agency will consult with automakers to implement the expansion and said that highest-risk vehicles will be addressed first.

"Everyone plays a role in making sure that this recall is completed quickly and safely, including manufacturers, suppliers and vehicle owners themselves," Rosekind said in a statement.
In addition, the new NHTSA order will require Takata to determine the safety of ammonium nitrate inflators that include a drying agent. Without proof of their safety, those inflators could also be added to the recall in the future.
Prior to the expanded order, U.S. officials estimated that some 85 million Takata inflators remained on the road.
"Today's action is a significant step in the U.S. Department of Transportation's aggressive oversight of Takata on behalf of drivers and passengers across America," said Transportation Secretary Anthony Foxx.
Takata reportedly hopes to secure financial assistance to address the recall crisis from partner companies. The auto parts manufacturer estimated that previously announced recalls could cost $3.5 billion — well in excess of its $1.3 billion in assets as of December.