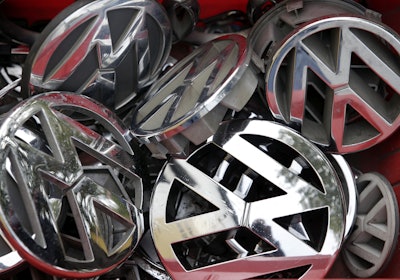 Volkswagen will repair or buy back the U.S. vehicles affected by its diesel emissions scandal under a deal reached with federal authorities ahead of a court deadline Thursday.

U.S. District Judge Charles Breyer said at a hearing in San Francisco that the German automaker agreed to settlement terms with the Environmental Protection Agency, California regulators and affected consumers.

According to numerous reports, Breyer said that the agreement will require VW to fix more than 500,000 diesel vehicles — which were equipped with software to manipulate their emissions levels during official testing — or purchase them outright from their owners.

The settlement also includes "substantial compensation" for owners, but financial details of the agreement were not available and Breyer issued a gag order on the parties.  Final plans are due to the court by June 21, but reports speculated that compensation could amount to $5,000 for some car owners — or $1 billion total.
Volkswagen originally set aside $7 billion to deal with the crisis, which affected some 11 million vehicles worldwide, but observers expect that price tag to climb considerably.

The agreement also requires VW to promote "green" auto industry initiatives and environmental remediation. The cars in question can emit up to 40 times the EPA's threshold for nitrogen oxides.
The EPA announced the violations in September, and German regulators cleared a fix for the European Union — where most of the vehicles were located — in December. Recalls in Europe are already underway, although not without their own hiccups.

In the U.S., however, conforming to stricter pollution standards required a much more complicated fix, and talks between VW and the EPA dragged on for months. The California Air Resources Board, meanwhile, rejected an initial proposal from the company.
The settlement would resolve the issues with those agencies, along with lawsuits filed on behalf of VW owners. Reports said that the Federal Trade Commission, which sued VW over alleged false advertising, was also likely to sign off on the deal.

"Volkswagen is committed to earning back the trust of its customers, dealers, regulators and the American public," the company said in a statement. "These agreements in principle are an important step on the road to making things right."

VW plans to present its full earnings report next week. The company's sales took a huge hit in the wake of the scandal, and criminal probes that could amount to billions in penalties continue to loom.