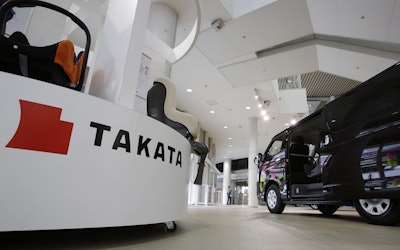 Takata hopes to line up a list of companies by late summer that could provide financial assistance amid a massive airbag recall.

Reuters, citing two sources familiar with the matter, reported that the Japanese company formed an advisory panel earlier this year and that the group is currently approaching potential partners.

More than 50 million Takata airbag inflators worldwide have been recalled over concerns that they could improperly inflate.

Investigators found that ammonium nitrate — the propellant in the inflators — could degrade without a drying agent, particularly when exposed to high humidity. Under those conditions, the inflators can explode and send shrapnel into vehicle interiors.

At least 11 deaths — including 10 in the U.S. — are attributed to the defect. A Texas teenager became the latest last month when the airbag in the 2002 Honda Civic she was driving exploded in an otherwise routine fender-bender.
Takata estimated that its costs from the recalls to date could total $3.5 billion, which would be well in excess of its $1.3 billion in assets as of December.

Under a worst-case scenario, the auto parts maker said that a recall of all inflators that contain ammonium nitrate — some 288 million — would cost $24 billion.

Reports earlier this year suggested that Takata could ask for help from Toyota, Honda and other Japanese automakers in resolving recall costs.

Honda, which dropped the company amid allegations that it misrepresented testing data, appears unlikely to help, while Toyota told Reuters that no decisions about the matter had been made.

The report said that neither the amount of assistance needed nor a proposed payment structure were finalized.