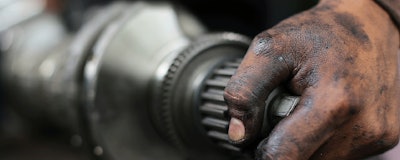 Perusing an ingredient label to ensure your food is free of harmful preservatives, trans fats, artificial sweeteners, etc., is almost commonplace these days. But have you ever looked at the ingredients in your hand soap?
If you're using an industrial hand cleaner, you'll likely find petroleum distillates listed in the ingredients. Petroleum distillates are hydrocarbon solvents produced from crude oil, and include mineral spirits, kerosene, white spirits, naphtha, and Stoddard solvents. These solvents are produced in oil refineries at the same time as automobile fuel, heating oil and chemical feedstocks. Many industrial cleaners contain petroleum distillates for the removal of heavy oil and grease, tar and waxes, meaning you're potentially washing your hands with these chemicals, not to mention absorbing them via your body's largest organ: the skin.
The Scary Side Effects Of Petroleum Distillates
Petroleum distillates can have a negative effect on the body if they come in contact with the skin. Short-term exposure is known to cause skin irritation; however, long-term exposure can impart much more harmful effects. Over time, skin contact with petroleum distillates can dehydrate and crack the skin, resulting in a condition known as contact dermatitis. Solvents, like petroleum distillates, defat pathways around the skin cells, causing inflammation and skin dehydration. Some manufacturers even place warning labels on their products, prompting users to use caution.
In addition to contact dermatitis, petroleum distillates can be contaminated with carcinogens which are absorbed through the skin, potentially leading to harmful levels of toxins in the body or even cancer. In fact, the European Union banned certain petroleum distillates in cosmetics and personal care products due to concern surrounding these possible human carcinogens.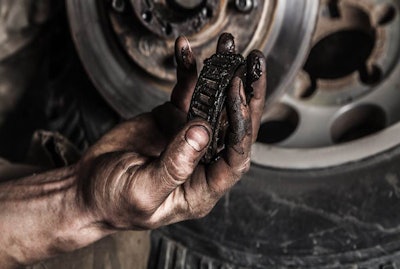 The Problem With Pumice
Grit is often added to industrial hand cleaners to help remove substances like oil, dirt and grime. However, there are a number of scrubbers, such as pumice and sand, which can cause micro-abrasions, or tears, in the skin. Pumice, a natural volcanic rock that consists of rough volcanic glass, is used at construction sites, in housekeeping products like polishes and erasers, and in beauty salons as an abrasive agent. Without a doubt, this common ingredient does its job to remove unwanted dirt in these workplace environments. Yet, it is widely known that using pumice on your hands will also unnecessarily remove important protective layers of skin. If you've ever used industrial cleaners containing pumice, there's a good chance your hands felt especially rough afterwards.
Pumice is also regularly shown to settle in the bottom of sinks and in pipes, causing blockages and costly repairs and cleaning. Natural scrubbing agents like corn meal, olive pit or walnut shell are easily rinsed away without getting caught in drains and pipes.
How Does Dermatitis Affect Organizations?
In addition to the physical impact dermatitis can have on a person, it can also create a financial burden on individuals and organizations. According to the Centers for Disease Control and Prevention (CDC), up to 40 percent of workers will suffer from occupational dermatitis at some point in their working lives. The U.S. Bureau of Labor Statistics (BLS) reports that 50 percent of all working time lost to industrial illness is due to dermatitis. Just one case of occupational dermatitis can cost an employer approximately $3,500 in worker's compensation claims, and an average disability of 23.9 days, according to the Journal of the American Medical Association. As with all occupational disease, prevention is the key. Prevention entails minimizing, or eliminating, skin contact with chemicals, or other unhealthy and dangerous ingredients, curtailing the chance of occupational dermatitis and associated issues.
A+ Alternatives
Just as we can substitute healthy ingredients as alternatives in recipes, there are also safer alternatives when it comes to industrial hand cleaners. It's important to embrace a product that takes into consideration the impact it has on hands, yet is still powerful and effective enough for the job. Low-solvent and/or solvent-free cleaners are a safer option than those containing petroleum solvents. Bio-scrubbers such as walnut shells, corn meal and olive pit are effective without stripping or causing damage to the skin. For example, Deb Group's full line of Solopol hand cleaners are free from petroleum derived solvents and use these safe and effective scrubber alternatives.
Your Guide To Choosing The Right Cleaner And Dispenser
Below is a quick reference guide that will help you pick the appropriate type of hand cleaner, based on your work environment.
Work Environment
Types Of Soiling
Recommended Types Of Hand Cleaner
Light Duty Industrial
General dirt, grime, or light industrial soilings
Universial, light duty hand cleaners
Medium Duty Industrial

Synthetic and petroleum based oils, greases and lubricants

Medium duty hand cleaners that do not contain petroleum distillates. Cleaners with scrubber is optional

Heavy Duty Industrial
Heavy soilings such as oil, grease, carbon black and lubricants from hands

Petroleum distillate free heavy duty cleaners with safe and natural scrubbers.

Heavy duty wipes provide an option for mobile workers or at sites not accessible to water.

Cleaners should contain skin conditioning ingredients to minimize the risk of irritation

Super Heavy Duty Industrial
Difficult-to-remove contaminants such as tar, carbon black and oil

Super heavy duty cleaners that are free of petroleum distillates and petroleum solvents, and contain safe and natural scrubbers.

Heavy duty wipes provide an option for mobile workers or at sites not accessible to water.

Cleaners should contain skin conditioning ingredients to minimize the risk of irritation.

Ultra-Duty/ Specialist Applications

Ultra-heavy duty contaminants such as varnish, inks, dyes, colorants or paints

Specialist formulations containing natural scrubbing agents that remove ultra-heavy contaminants
Soap was designed to clean hands, not harm them. However, the soap you're using could be doing just that. According to the Occupational Safety and Health Act, employers have a responsibility to ensure employees are provided a safe working environment. Addressing hand hygiene is an essential part of this. The type of hand cleaner selected is vitally important to skin health. A common misconception is that a hand cleaner's performance is measured by its ability to aggressively cleanse the hands, perpetuating the cycle of harmful and overly powerful ingredients being used in hand soaps and cleaners. By selecting an effective product that does not contain skin damaging ingredients, you, in turn, can wash your hands of the risk and damage of dermatitis.
Armand Coppotelli is the Senior Technical Trainer at Deb USA, Inc., a global occupational skin care company. Armand holds a Master Degree in Environmental Health/Industrial Hygiene from Temple University in Philadelphia, PA. Prior to joining Deb, he served as an industrial hygienist and compliance officer during the late 1970s and early 1980s for the US Department of Labor-OSHA, Region III in Philadelphia.