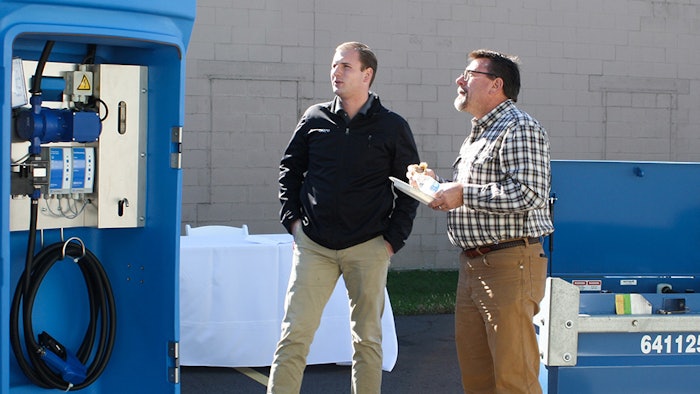 TROY, MI — Western Global, a provider of portable tanks and dispensing equipment for the storage and handling of fuels, lubricants and other fluids, hosted industry representatives at its Tank Talk Events celebrating the company's new location in Troy, MI in October. Over the past few years, Western Global has experienced significant sales growth, resulting in the need to increase its footprint and capacity by upsizing its Michigan facility. The new location offers a larger footprint for better management of inventory and increased manufacturing capacities. The Tank Talk events offered dealers, fuel distributors, rental centers, contractors and the public the opportunity to learn about Western Global, tour the new facility, observe product demonstrations and acquire a better understanding of the company's product offerings. Company vendors were also in attendance to aid in the experience.
"Our outstanding growth resulted from innovative designs, a comprehensive package approach and a commitment to the speed of customer service utilizing our large inventory commitment to increase service levels," said Barry Truan, Western Global North American general manager. "Our location in Troy supplies customers globally with the products they need to keep their jobsites running. Our equipment was even used to power the Winter Olympics."
"So many of our products are very large so it is difficult to display at trade shows or give customers and potential customers a chance to see their full size," said Sarah Queiros, Western Global senior marketing coordinator. "It's a rare occasion when our industry can provide an opportunity to see the products up close and personal."
The new facility highlights Western Global's commitment to the industry and community. The new space is one of the company's key regional locations as part of its global network including operations, finance, sales, marketing and service.
"We've been in our new space for about three months now," said Joe Cavataio, Western Global North American operations manager. "The new location supports our growth, allowing us to reduce lead times and increase capacity."
For the last five decades, Western Global has been a leader in fuel storage and distribution technology. As the market evolved, Western Global saw an opportunity to offer an efficient solution for fuel storage and distribution, with products such as the Abbi, FuelCube, TransCube, TransTank and EnviroCube. Today, the company offers the highest level of expertise, providing turnkey solutions for clients spanning many industries, including rental companies, fuel distributors and more.