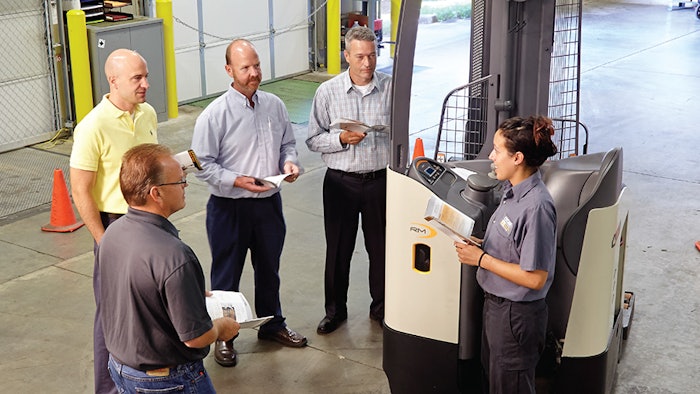 NEW BREMEN, OH — With a salute to National Forklift Safety Day, Crown Equipment Corporation, one of the world's largest material handling companies, has announced the opening of a new regional forklift service training center in Toledo, OH. The facility increases the company's training network to 14 sites globally, including nine regional service training centers across North America.
Located within the Crown-owned branch in Toledo, the new training center is overseen by Rod Schenck, regional service trainer, Crown Equipment. It joins the company's existing U.S. regional training centers in California, Georgia, Illinois, Massachusetts, Ohio, Kansas, and Texas in offering Crown's Demonstrated Performance- (DP) Training programs for service technicians.
"As the Internet of Things (IoT) continues to transform the way we interact with machines, data and each other, it is bringing a new level of connectivity to the forklift and the service technician. Having educated service technicians with high-tech skills is vital to helping reduce maintenance costs, ensure fleets are operational and available when needed, and create a safety-based culture," said Justin Moore, general manager service training, Crown Equipment. "Crown's DP training delivers the knowledge and skills service technicians need to keep pace with evolving technology and equipment. They also learn important safety practices so they can continue to play an important role in maintaining a safe working environment."
Crown's DP Training for service technicians goes above and beyond traditional classroom lectures by providing intensive, one-on-one instruction that is customizable to match the needs of each technician. Through hands-on learning, participants work directly on forklifts with instructor supervision, to learn firsthand the skills and knowledge necessary to keep a fleet up and running. To complete the program, students are required to demonstrate learned skills during an individual instructor evaluation.
Crown, through its network of regional training centers, company-owned branches and independent dealers, offers a comprehensive range of forklift training programs in addition to DP Service Training, including DP MoveSafe Train-the-Operator, DP LeadSafe Train-the-Supervisor, DP TrainSafe Train-the-Trainer and pedestrian training. For more information on these programs, visit Crown's website.